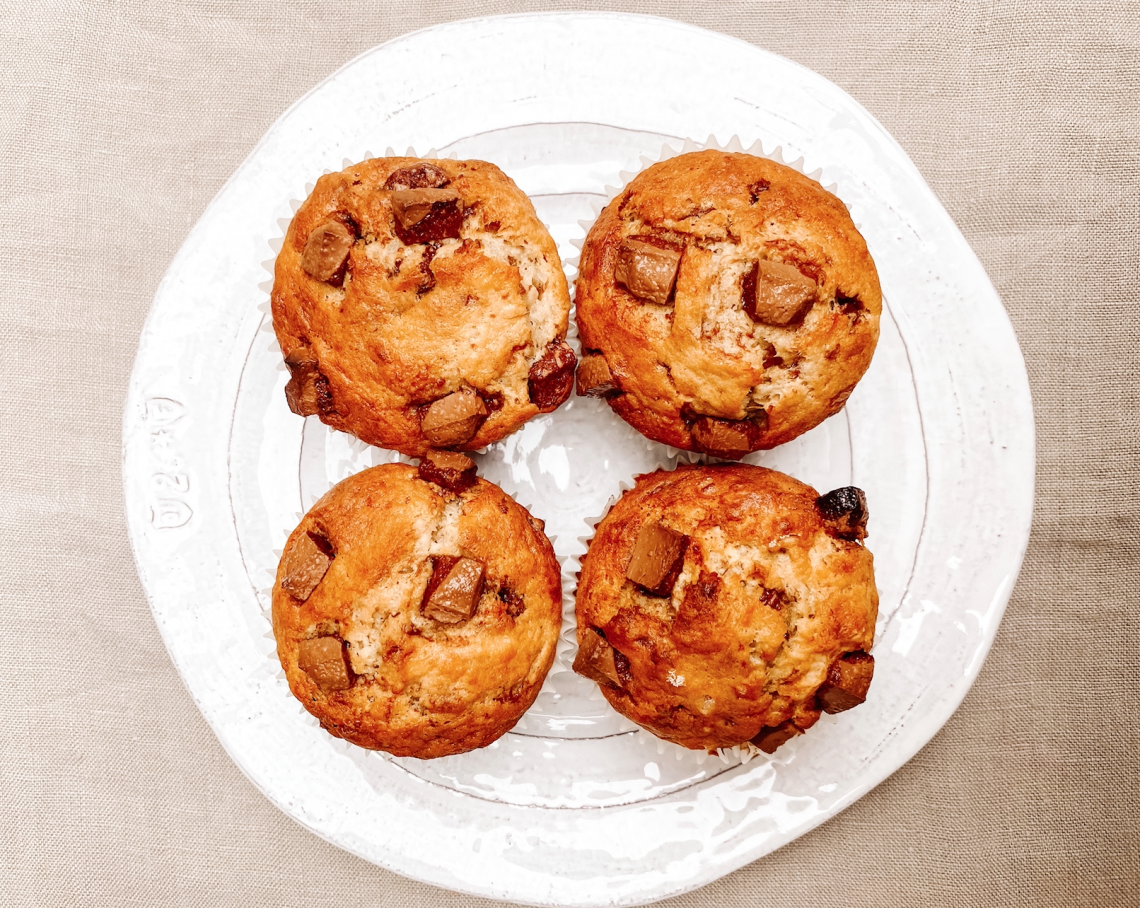 Banana Chocolate Chip Muffins
30th March 2020
Jump to Recipe
Light, fluffy, buttery banana muffins, stuffed with your favourite chocolate, served warm from the oven with a fresh cup of tea or coffee. What a wonderful way to start the day! Or why not treat yourself at the end or the middle of the day?
Based on my Banana Muffins – Core Recipe, this classic combination of banana and chocolate is quite possibly the most popular muffin recipe in my house. I am in no way trying to claim that this is your healthiest breakfast option but it is, nevertheless, a wonderful and delicious treat on the weekends or for a morning coffee break. Bursting with banana flavour, it almost feels like you are someway towards your '7 a day'!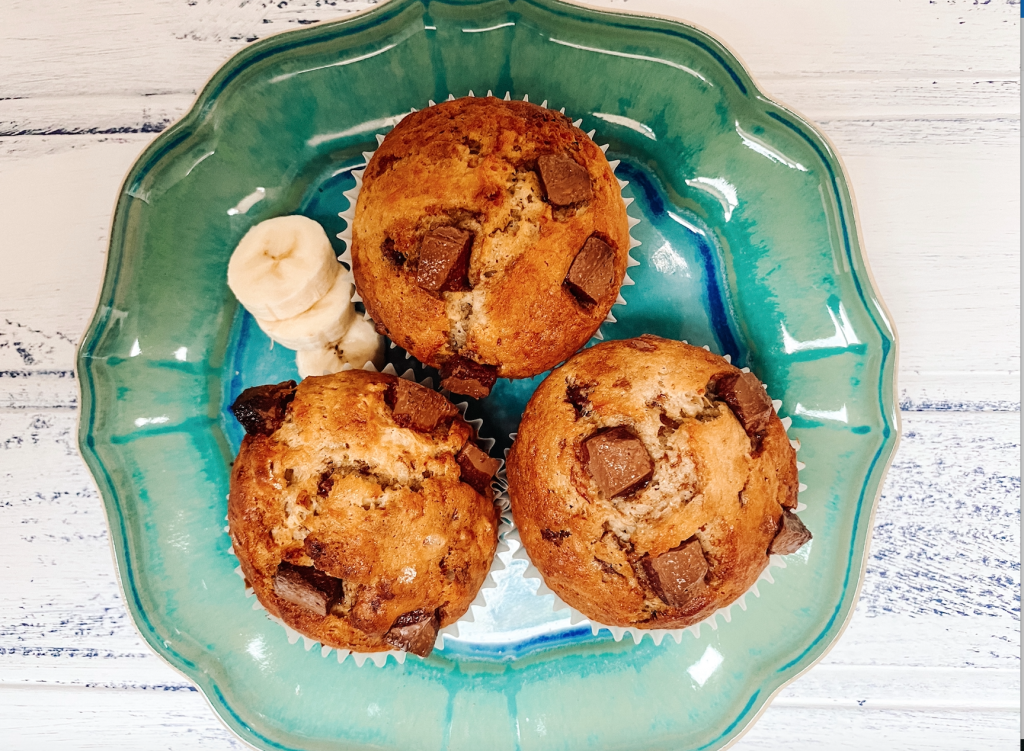 Muffins make wonderful gifts and treats – how about taking in a batch for a colleague's birthday or drop some round to a friend's house as a thank you? Sadly we are still in COVID 19 lockdown here in London, so going out and treating people is very difficult as we are all supposed to be isolating and leaving the house for essential purposes only. As a doctor however, my husband is an essential key worker and last week he took some brownies into the surgery centre for many other key workers working so hard to support the NHS and of course all of us! Next time, I think I will bake some of these beauties for him to take in.
One of the key issues when baking banana muffins is using bananas at the correct stage of 'over-ripe!'. They should be so over-ripe you probably wouldn't eat them, the skins will be brown and the banana flesh very soft – they will however be very sweet, full of flavour and perfect for baking. Timing is therefore key! The good thing is that you can freeze over-ripe bananas if you do not want to use them immediately. Simply remove the skin, chop into 2 cm pieces, pop into a bag and freeze. Defrost before using in baking.
The brown banana below is perfect for cooking. The yellow one underneath is not ready yet!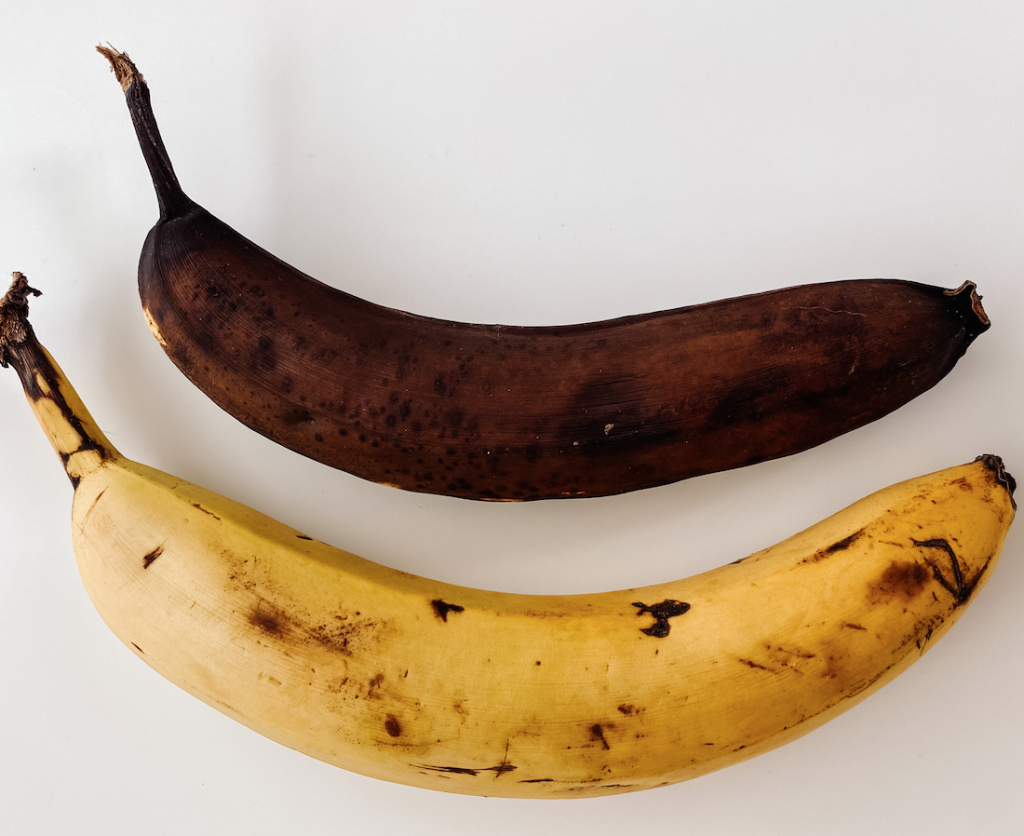 Exciting newsflash (maybe I need to get out more!) – I discovered this week that you can freeze these muffins whilst raw and cook from frozen whenever you want a fresh hot muffin straight from the oven! It's a game changer! Mix up a batch of muffins, cook what you need and freeze the rest for another day! I do this all the time with cookies and suddenly thought, why not try it with muffins. I had a bunch of bananas I needed to use up, so made a batch and tried it out. Made 12, cooked 4 and froze 8. The following day I cooked a couple from frozen and hey presto, perfect muffins!
These muffins were cooked from frozen:
As I may have mentioned before, one of the difficulties of being stuck in the house all the time, is trying not to eat and nibble all day long and making a batch of muffins is lethal! Nothing, I repeat nothing, smells better in a home than fresh cakes or bread baking in the oven. It's about the only thing that brings everybody out of their bedrooms! Freezing a few muffins for another day means we can control how many we eat all at once. It also means I can use the bananas up at the right time but have banana muffins anytime. For details of how to cook from frozen, please see Recipe Notes.
How to make Banana Chocolate Chip Muffins
These are very simple muffin to make – you just need one bowl and a chopping board and knife. Easy clean up and quick to prepare. For extended detailed instructions please refer back to my Banana Muffins – Core Recipe. In short, you simply:
melt the butter
add the banana, yoghurt, eggs, vanilla, sugar and salt and mix thoroughly
fold in the flour, baking powder, bicarbonate of soda and chopped chocolate
divide between the muffin cases
The only real difference between this recipe and the original core recipe is that I double the quantity of vanilla extract, add chopped chocolate to the mix and add a few pieces of chopped chocolate to the top of the muffins.
chop a little additional chocolate and scatter 3 -4 pieces on top each muffin. Cook!
Banana Chocolate Chip Muffins
Light, fluffy, buttery banana muffins, stuffed with your favourite chocolate, served warm from the oven with a fresh cup of tea or coffee. What a wonderful way to start the day! Or why not treat yourself at the end or the middle of the day? Makes 12 – 14
Course
Breakfast, brunch, Cake, Dessert, Morning Coffee
Keyword
banana, breakfast, Chocolate, light and fluffy, morning coffee, muffins
Ingredients
Wet ingredients and sugar:
100g unsalted butter 

250g mashed over-ripe banana, (This is equivalent to roughly 3 bananas which will weigh 300 – 350g with their skins on.)

80g natural yoghurt

2 large eggs

2 teaspoons vanilla extract

100g sugar, either caster or soft brown sugar

¼ teaspoon salt
Dry Ingredients:
250g plain/all-purpose flour

1 teaspoon baking powder  

½ teaspoon bicarbonate of soda

150g chopped chocolate
Suggested Accompaniments:
Butter

Yoghurt

Fresh banana

Fresh berries

Nuts and seeds
Instructions
Preheat oven to Fan Oven 200°C /220°C/425°F/Gas 7

Collect together your ingredients and equipment.

Melt the butter in a large bowl in the microwave.  Allow to cool a little whilst you collect together your remaining ingredients. 

Add the bananas to the butter and mash a little with a fork.

Now add the remaining wet ingredients – the yoghurt, egg and vanilla and the sugar and salt. Beat well with an electric or hand balloon whisk.

Measure the dry ingredients, apart from the chocolate, directly onto the banana mix and fold in gently until nearly mixed.

Add the chocolate and continue to fold in. Be careful not to overmix at this stage.

Using an ice cream scoop, divide equally between 12-14 muffin cases and top each muffin with 3 – 4 pieces of chocolate.

Put into the oven on the middle shelf and cook for 5 minutes

After 5 minutes, turn the oven down to Fan Oven 160°C /180°C/350°F/Gas 4 and cook for a further 15 – 18 minutes.

Remove from the oven when cooked, leave to sit for 5 – 10 minutes and transfer the muffins/loaf to a wire cooling rack.

Eat warm or at room temperature, on their own or with your choice of accompaniments
Recipe Notes
Equipment:
Kitchen scales and measuring spoons
Microwave safe mixing bowl
Whisk – electric or balloon
ice cream scoop
muffin tin and lined with paper cases for 12-14 muffins
Freezing and Cooking from frozen:
Before you start making the muffins, line a muffin with liners and place in the freezer to get as cold as possible
Make your muffins as normal, fill the muffin cases in the cold muffin tin and scatter over the chocolate
Loosely cover with cling film and put back in the freezer immediately. 
As soon as they are solid, take out of the tin and place in a freezer bag or container. Keeps up to 3 months.  
If your muffin cases are stuck to the bottom of your muffin tin when you take it out of the freezer, run some hot water from the tap in your kitchen sink – just 1 – 2 cms. Sit the tin in the hot water for 30 seconds to a minute. This should be enough to release the muffins. You can now bag them and return them to the freezer. 
To cook from frozen: preheat oven to Fan Oven 200°C /220°C/425°F/Gas 7
Put the frozen muffins back into a muffin tin and cook on the middle shelf  for 10 minutes.
After 10 minutes, turn the oven down to Fan Oven 160°C /180°C/350°F/Gas 4 and cook for a further 15 – 18 minutes.
N.B.
Best eaten on the day they are made. However, they will store well in an airtight container for 2 -3 days, or 4 – 5 days in the fridge. If you are storing in the fridge, allow to come to room temperature before eating.

These muffins freeze well after cooking as well. Cover and freeze for up to 3 months.

To make as a loaf, please see Banana Muffins – Core Recipe.
You May Also Like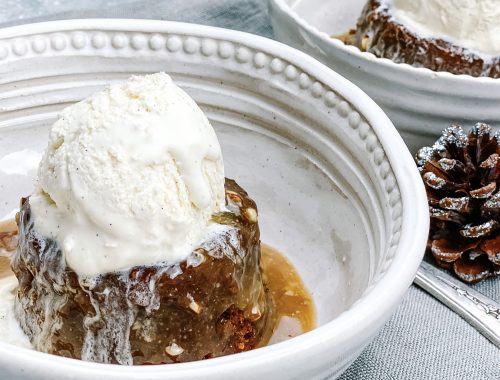 20th December 2020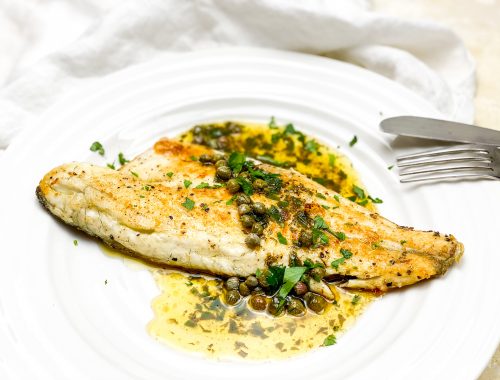 19th August 2021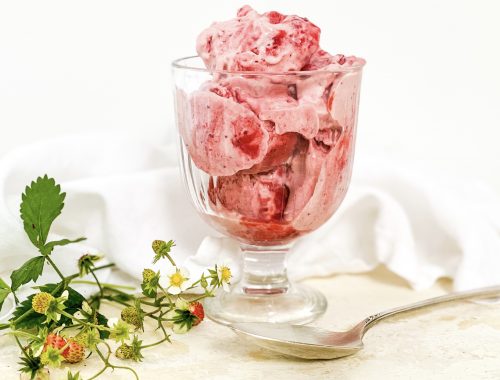 28th June 2021