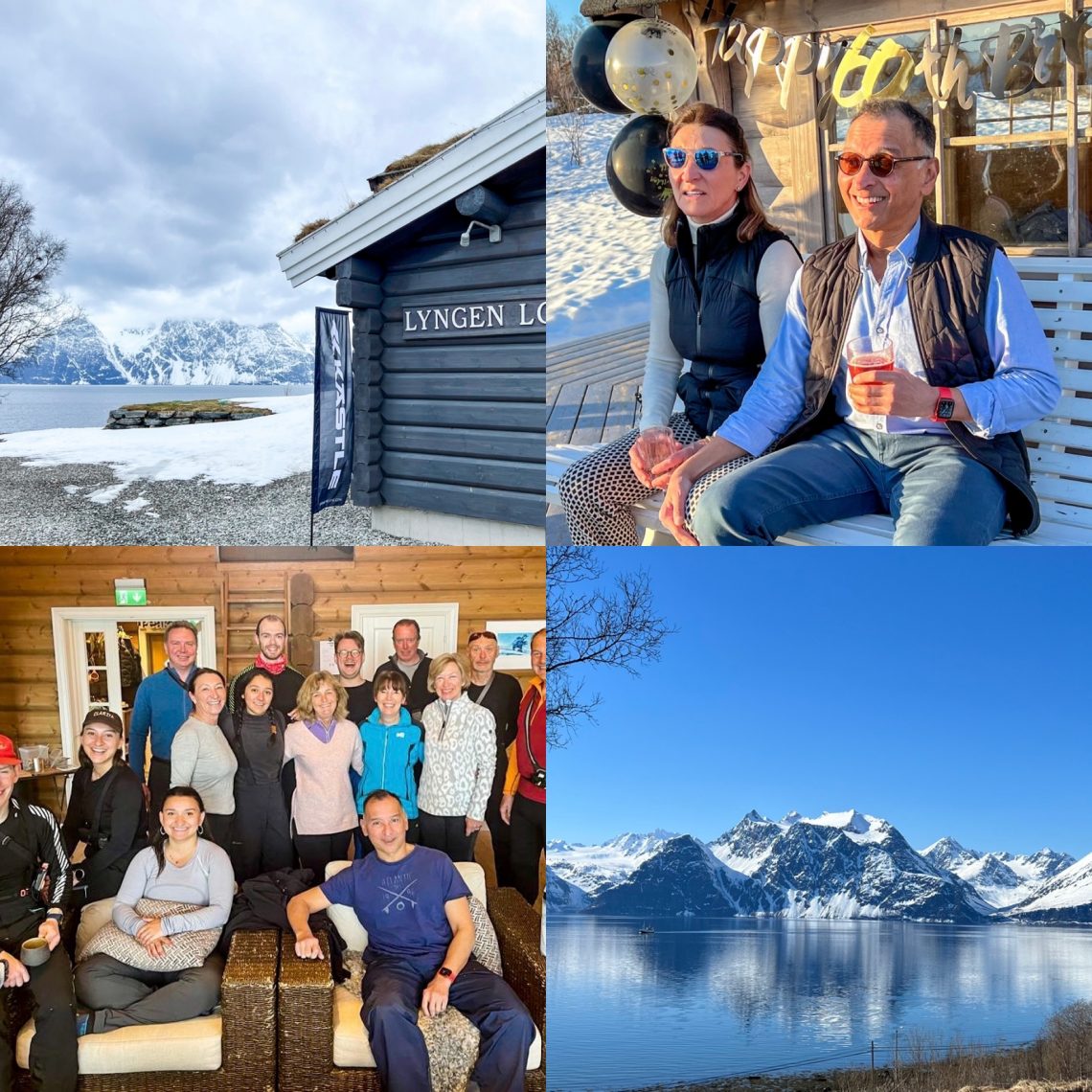 Lyngen Lodge, Lyngen Alps, Norway, April 2022
2nd May 2022
What an incredible week at Lyngen Lodge to celebrate Chris Mathias' 60th birthday! A culinary and delta group celebration!! (Read on.)
Lyngen Lodge
This fully catered, family owned, boutique lodge hotel is located in the municipality of Kåfjord Kommune, in the county of Troms, in the famous Norway fjords. Set up in 2008, this chic, high end, luxury lodge is the epitome of Scandi hygge – comfortable conviviality, cosy, and warmly welcoming. They offer a range of exciting winter and summer activities ranging from ski touring, snow shoeing, cross country skiing, fishing, mountain biking, hiking and husky sledding to yoga and experiencing the northern lights.
Chris's 60th birthday
Andrew and I were so honoured to be invited by Chris and Clare to help celebrate Chris' 60th birthday. We were part of a group of 16, which included their three wonderful daughters, Thea, Abby and Sass, with their respective fiancé and boyfriends, Deane, Rich and Oscar. Martin and Julie, Mark and Chris, Paul and Andrew and I completed the group. Unfortunately Paul's wife, Deborah, was unable to attend due to Covid – the gift that just keeps giving.
Every day was an absolute joy full of exciting, (often strenuous) activities, fun, laughter and love. Friendships were celebrated, cemented and formed whilst sharing delicious food, plenty of jolly good wine and a few stiff muscles.
Activities and Dining at Lyngen Lodge
Breakfast
Each day starts with an incredible smörgåsbord of breakfast delights – breads, sweet and savoury spreads, nut butters, a cheese board, dried meats, fruit salad, smoked salmon, porridge, eggs, bacon, cereals and more. You create your own picnic lunch from this delectable selection, to take with you for your chosen activity.
Afternoon Tea
Afternoon tea is served around 4pm, comprising of delicious cake, a grazing board, fresh fruit, crisps and nuts.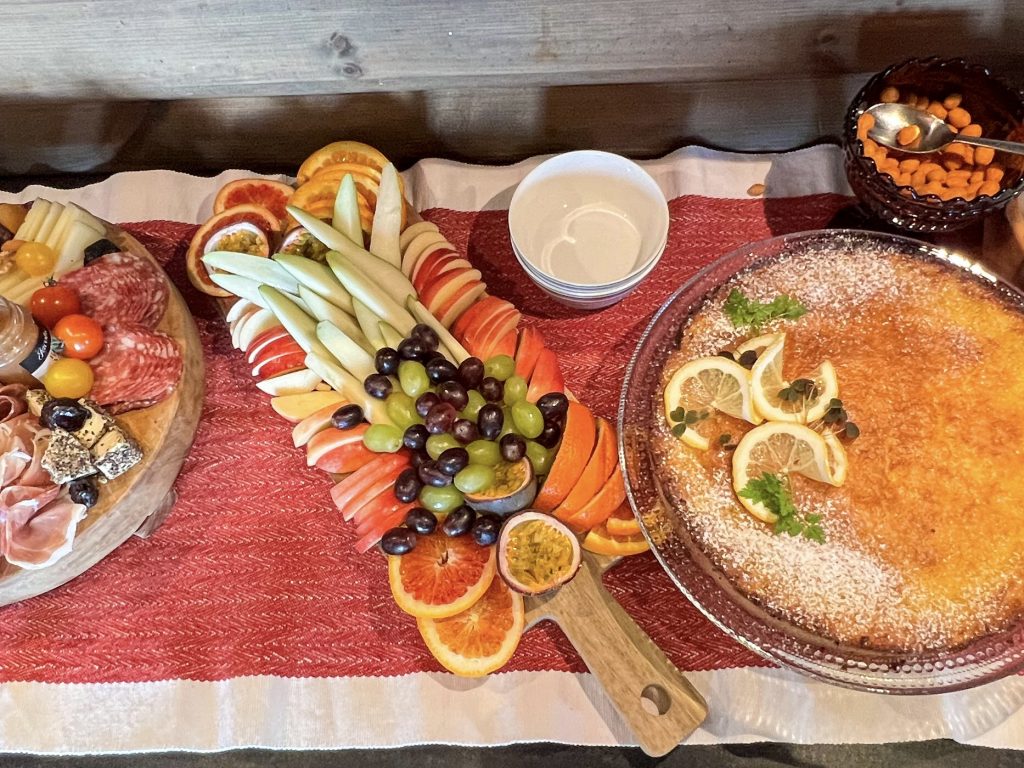 Dinner
Dinner is always a sit down, three course affair. The provenance of the food is very important to the Lodge and, wherever possible, the food is locally sourced. We enjoyed reindeer and three dishes from fish caught in the Lyngen fjord, as well as some classic Norwegian fare.
Day to day
Each day there were 3 groups:
Alpha – die hard skinning fans/nutcases and, they would argue, the best skiers. Rich, Abby, Martin, Mark and Andrew – until his boots took the skin off his heels and he was forced to retire hurt.
Bravo – a second group of excellent skiers, who were slightly less keen to kill themselves on a daily basis. Chris, Paul, Thea, Deane, Sass and Oscar
The third (and best group!), sometimes known as Delta – those of us prepared to try a fuller and more exciting range of winter activities, sledding, snow shoe and cross country skiing. Clare, Chris, Julie and me. Sadly no time to go skinning! 😂
It is important to note that all 3 groups enthusiastically and raucously joined in all social, eating and drinking events, on each and every day.
Day One
The journey:
A long journey with a flight from Heathrow to Oslo, a quick change of flight to Tromsø, and then a bus ride to the lodge. Around 12 hours door to door, but made so much easier by good company and fabulous views.
The spectacular scenery between Tromsø and the lodge was moody and evocative.
The lodge itself:
Dinner Day 1
Menu –
Roasted carrot and sweet potato soup
Oven-baked fillet of cod with horseradish and green pea risotto, drizzled in nutty brown butter
White chocolate panna cotta and blueberry compote
Day Two
Activities – sledding for Delta group!
Absolutely loved it. The huskies are Alaskan; they tend to be smaller than traditional huskies and more varied in colour. Although now considered a pedigree in their own right, they get their varied size and colour from breeding programmes in the 1800s, when they were mixed with a selection of different dogs but mostly German Shepherds.
Lunch
Moose Stew, Coconut Cake and chocolate. So good.
And puppies!
A walk by the fjord before dinner, with these lovely ladies:
Dinner Day 2
Menu –
Salt-baked kohlrabi, pan roasted king oyster mushrooms, baked sunchoke, fried sunchoke, mushrooms, brown butter sabayon and crispy kale
Reindeer fillet, mushroom and celeriac puree, oven-baked potato cakes and roasted pointed cabbage served with red wine reduction and macerated crowberries
Citrus financier served with lemon cream, mint pesto and baby meringues
Day Three
Activity for Delta Group – snow shoeing
Fabulous 500m climb and incredible views on the way to a wonderful mountain hut.
'Room with a view' and moose prints.
Jacuzzi and rosé time
Well earned glass of rosé wine in the hot tub!
Dinner Day 3
Menu –
Oven-baked Brie served with roasted walnuts, hazelnuts, almonds, and pumpkin seeds with apricots in rhubarb syrup.
Pan-roasted trout served with creamy polenta, roast fennel, courgette and red peppers and shrimp bisque.
Chocolate nemesis served with cranberry and red pepper sorbet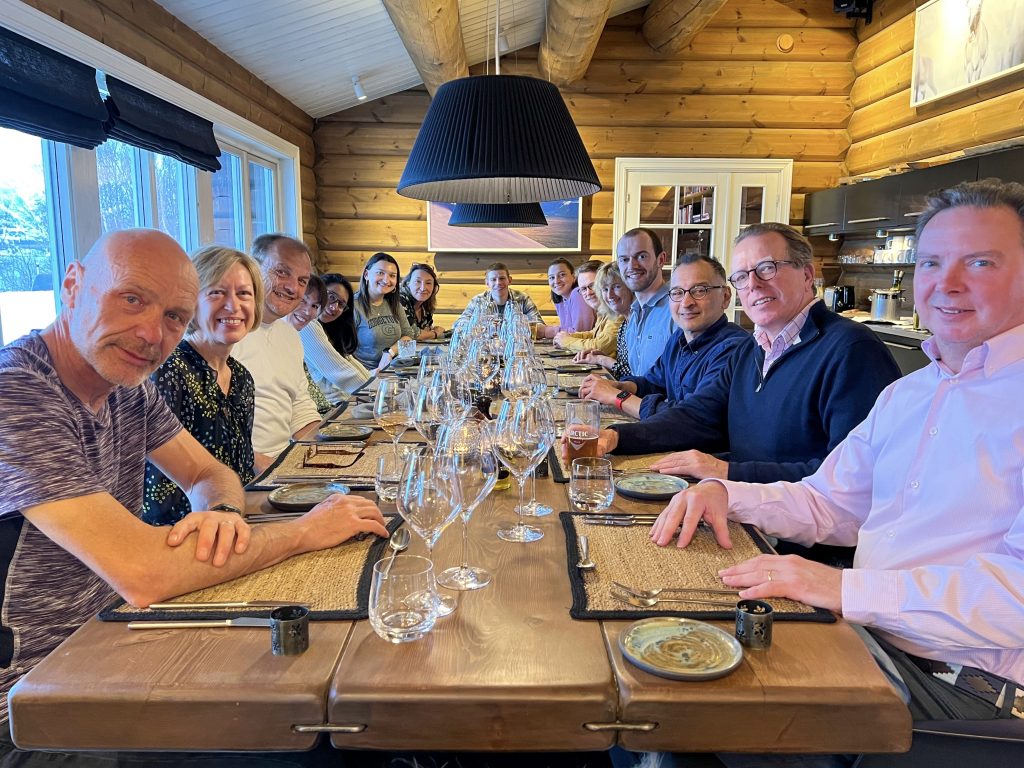 Day Four
Another action packed day of adventure for all groups, taking advantage of the incredible weather and culminating in a special celebratory dinner for Chris' s 60th.
Activity for Delta Group – cross country skiing and yoga
Fabulous sunshine today for our cross country adventure. A short drive through beautiful country side, skiing through the birch trees along a river bank, to a picturesque lunch spot.
A short drive through beautiful country side –
Skiing through the birch trees along a river bank –
Picturesque lunch spot –
All in one piece!
A few bruises later and no actual moose, but all in one piece and a wonderful adventure.
Time for yoga
Wonderful yoga session organised by Julie, on the veranda, taking in the sunshine and the incredible view.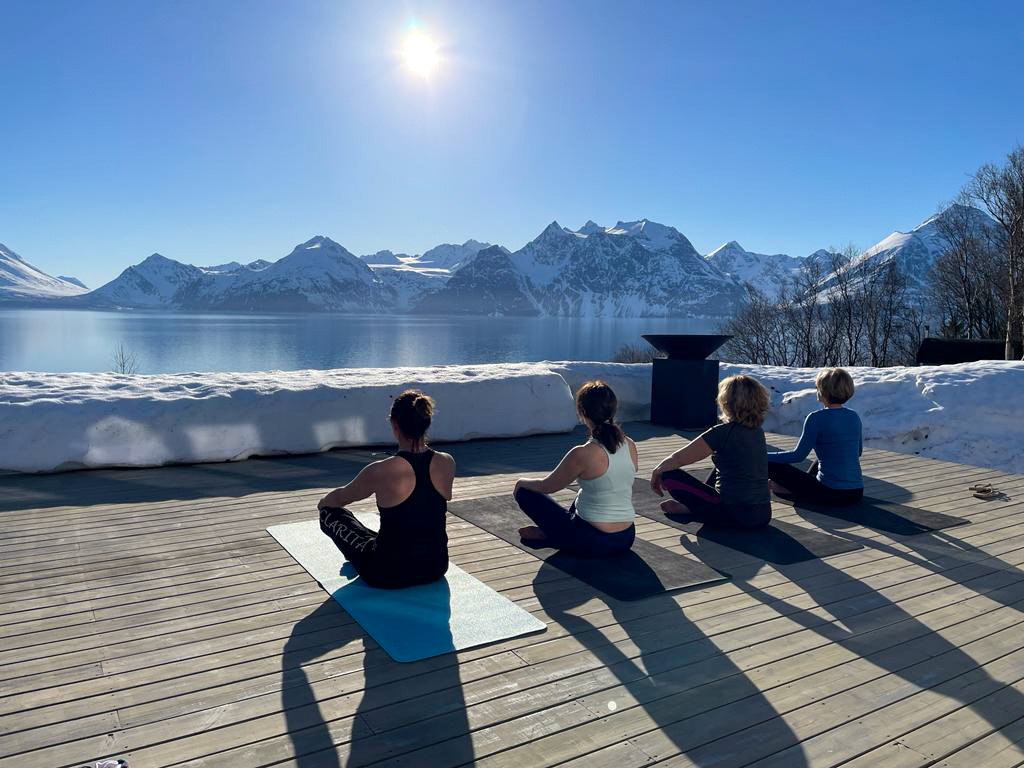 Fabulous celebratory dinner for Chris' 60th, day 4 –
A beautifully decorated table, champagne, some goat's cheese hors d'oeuvres with caramelised walnuts and crackers, another wonderful three course meal and a beautiful, celebration cake!
Menu –
Roasted baby red and golden beets served with whipped goat's cheese and a mint and shallot vinaigrette
Rack of lamb, herbed rustic mashed potato, roasted Romanesco cauliflower, preserved lingonberries and a rosemary demi-glace
Chocolate cake with strawberries dipped in white chocolate ganache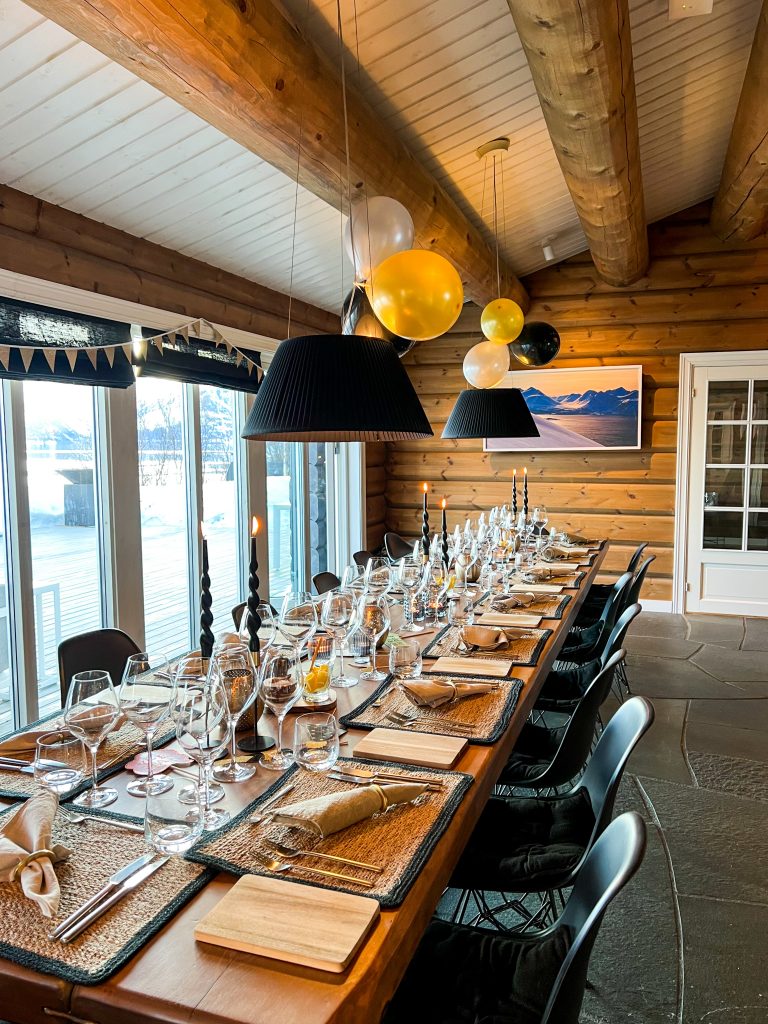 Day Five
Another incredible day of glorious sunshine and exciting adventures, dominated by boat trips. Delta Group ventured out onto the Lyngen fjord by boat to go dolphin hunting, whilst the skiers landed at their destination by both boat and dingy. James Bond, eat your heart out!
Dolphin hunting:
Incredible scenery –
Delightful dolphins –
Beautiful walk back to the lodge –
And the James Bond crew –
Dinner Day 5
Dinner started with a few drinks at the Lyngen mountain hut tonight, up behind the lodge. Speeches and memories to celebrate Chris's birthday brought smiles, tears and a lot of love and laughter, on a glorious evening in the artic.
Menu –
Cod ceviche with lime, dill and pomegranate seeds served with avocado sorbet
Duck breast with orange sauce served with potato and celeriac puree, mushrooms, macadamia nuts and kale chips
Tilslørte bondepiker
Day 6
The dark and moody weather returned today bringing another level of beauty to this incredible landscape. Delta group set off for more adventures on snow shoes, without our guide, but with the lovely Sass.
Dinner Day 6
Menu –
Seafood and saffron risotto
The most incredible baked halibut, almond potatoes, apple, fennel and dill salad, broccolini and butter sauce
Blueberry clafoutis with chantilly cream
Day 7
Our final day saw a number of alpha and bravo members realise that the best group was actually delta! Chris, Paul and Mark joined us on another snow shoe adventure, headed up by Martin on skis.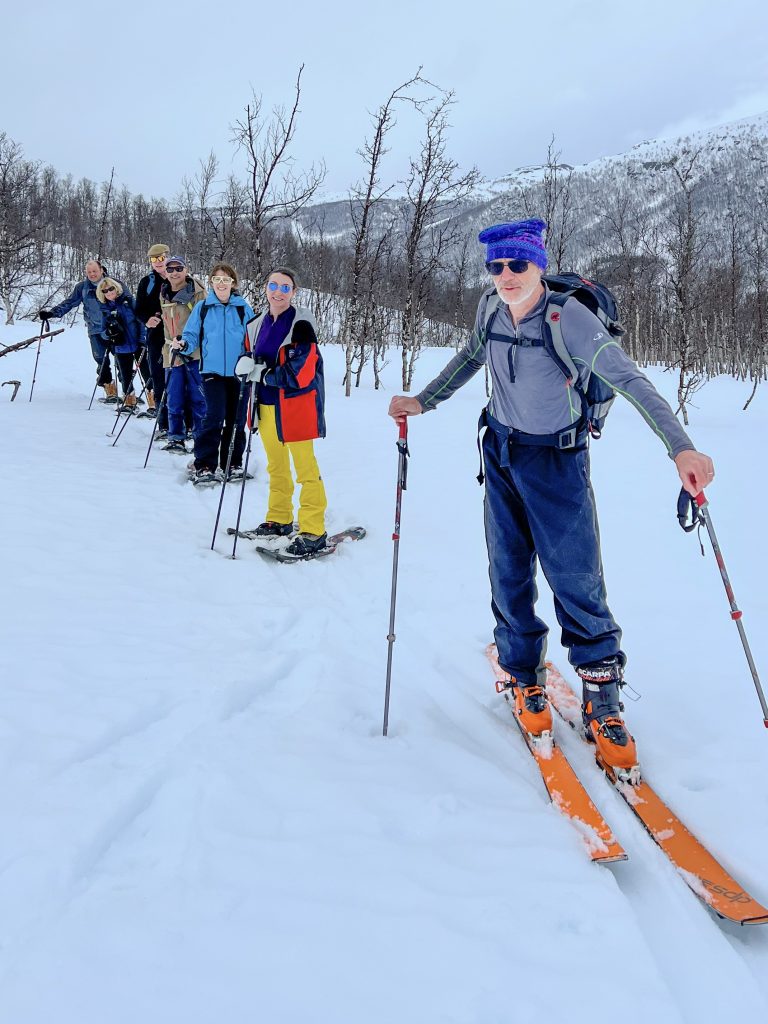 Dinner Day 7
Menu –
Scallops served with cauliflower puree, hazelnut and soy sauce dressing and cured meat chips
Rich beef ragù with star anise, tagliatelle and parmesan cheese
Mini traditional Norwegian marzipan cake
A few more photographs from this fabulous week –
You May Also Like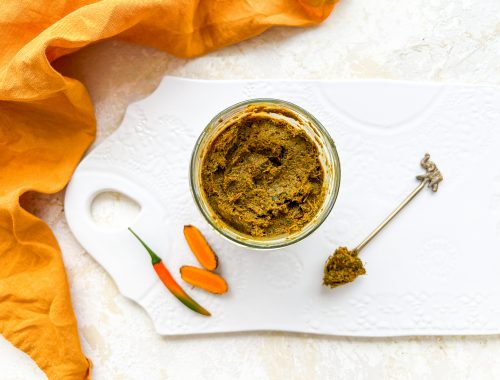 20th November 2022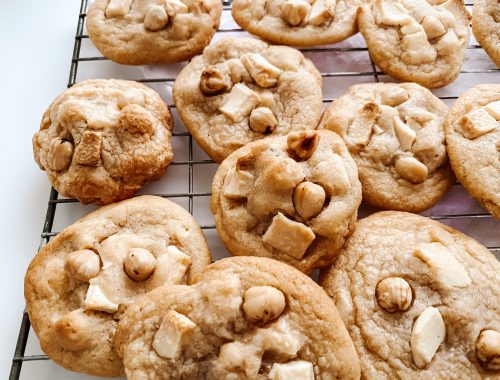 11th August 2020