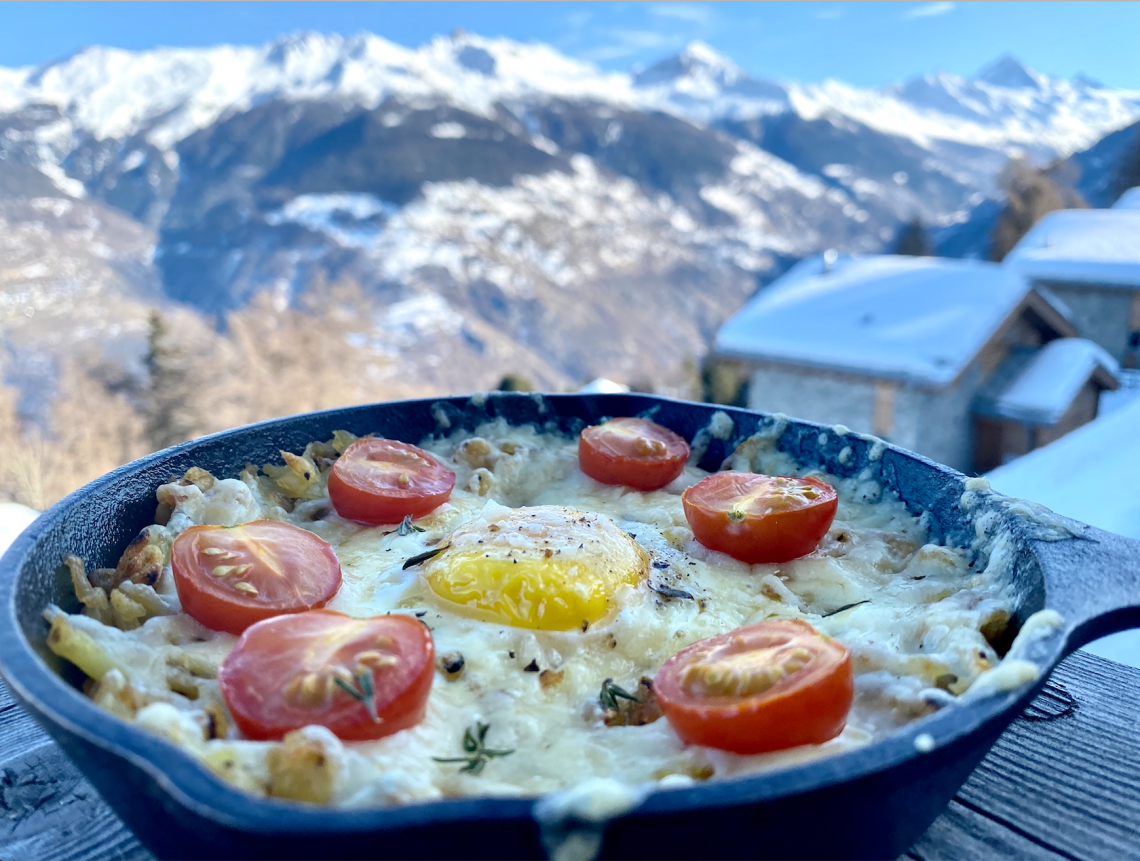 Swiss Rösti
20th January 2020
Jump to Recipe
Coming to the Alps and not eating Rösti would be like having strawberries at Wimbledon without cream, drinking gin without tonic or tea without some milk. (No arguments here please – I'm British and we drink our tea with milk!) They are just meant to be together so I absolutely had to post my Rösti recipe whilst I am here in Switzerland surrounded by snow and these incredible mountains that I wake up to every morning.
Synonymous with the Alps, Rösti are made from the simplest of ingredients – potatoes, fat and seasoning. Celebrating the magnificence of the humble potato, they should be crispy on the outside and softer on the inside, delicious as they are or loaded with cheese, eggs, smoky bacon and tomatoes.
I have made Rösti for many years using a variety of different recipes, the majority of which tasted good but none of which were quite right. I did a lot of research but like most classic dishes there is no definitive recipe. There are very many variations and ideas about how to prepare and cook them and none of the ones I tried, tasted like the ones we ate on the slopes and in the restaurants near us. Last summer my husband and I were hiking in Zermatt and ate lunch at the fabulous Zum See Restaurant on our way back down the mountains to the town centre. We had their amazing Rösti, and when I asked them how they make it, they very kindly shared a few tips with me.
I tried it out at home and I have finally hit the jackpot! This is pretty much it. We are in alpine Rösti heaven. Not great for the waistline admittedly but every mouthful is worth it! They key points they shared were:
Use proper Rösti potatoes or other waxy potatoes if you can't find Rösti. You want the individual strands to remain as strands and not collapse when you cook them. These potato strands are not meant to stick together, (like Hash Browns) the whole mixture is much looser.
They do not include onions in their Rösti mix – just potatoes, but you could stir through some chopped smoked, cooked bacon before putting the Rösti in the oven.
Parboil the potatoes first and leave them overnight or a few hours in the fridge to get very cold. Not only does boiling them first in salted water ensure the dish is seasoned well, letting them get very cold after parboiling really helps you to grate the potatoes and keep the potato strands as long as possible. I use a proper Rösti grater but the large side of a normal box grater you use for cheese will be fine.
Fry the potatoes until lightly browned – they used lard but I changed this to half lard and half butter because I love the flavour of butter but feel free to use all lard. When discussing this with them they suggested replacing the lard with vegetable oil (rather than using pure butter) if making for vegetarians or use just vegetable oil for vegans
Once the potatoes are browned, transfer them to an ovenproof serving dish or pop them in the oven in the pan you are using in order to finish the cooking process and to cook any toppings such as cheese and/or eggs.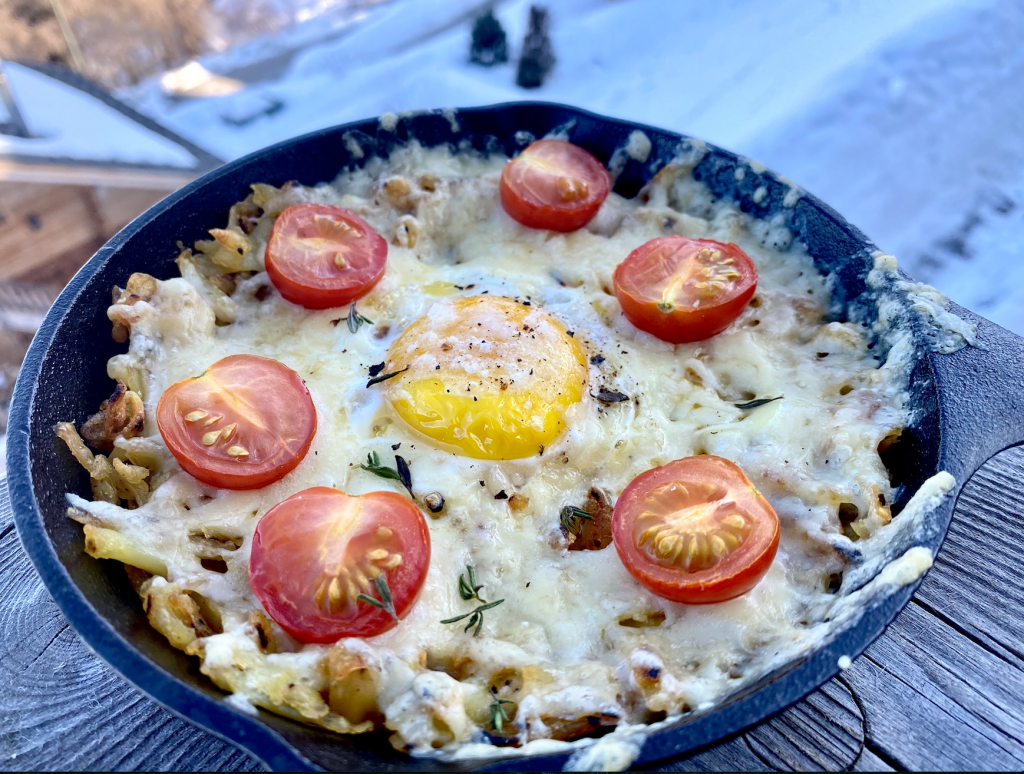 All the Rösti we order here, without exception, are way too big for me. Maybe I'm not skiing hard enough (undoubtedly) or hiking far enough (probably) but I have never been able to eat a whole Rösti; if I did I most certainly couldn't then ski or walk a step further! I tend to order them and then share with Charlotte or Emma or my mum. Andrew, on the other hand, views it as a challenge. To be fair though, his approach to skiing is somewhat more hard core than mine! The question of how big to recommend people make them at home is tricky.
The amount of potato you use will depend on who you are feeding and what else you are serving with the potato. The 300g size I have quoted in the recipe is the amount I make for Andrew. (See below.) He had been skiing in the morning so was quite hungry. He ate his with 4 sausages but no cheese or eggs and certainly nothing healthy like tomatoes or anything green!
I tend not to eat that much but equally I know people who would want more. The good news is that it is easy to increase and decrease according to your needs. Just remember:
Weigh the potatoes when you have peeled them and before you cook them.
The amount of fat you use is 10% of the total weight of the raw, peeled potato. If you are cooking 300g of potato, you need 30g of fat for which I use 15g lard and 15g butter. Obviously, if using 500g of raw, peeled potato, you would need 50g of fat for which I would use 25g lard and 25g butter.
Parboil the potatoes in salted water first as this really helps with the seasoning.
Ensure the potatoes are properly cold when you grate them.
Cook as described in the recipe but do not overcrowd the pan when frying. Either use a bigger pan or cook in batches.
The cooking process is actually quite simple:
peel, weigh and parboil the potatoes in salted water
drain and set aside, covered in the fridge until very cold
grate
heat some lard/butter/oil in a pan over a moderately hot temperature and cook the potato until softened and lightly browned
stir in some additional seasoning if necessary and add some chopped cooked bacon , if using
transfer to a buttered ovenproof dish or use your cooking pan to then put in the oven
cook until hot and crisp on the outside but still soft on the inside
5 – 10 minutes before the end of cooking add your toppings such as cheese, eggs and tomatoes.
That's it!
Although traditionally a breakfast food for farmers, Rösti are now eaten at any time of the day – breakfast, lunch or dinner. They can also be made ahead of time, up until they need to go in the oven. If serving them for breakfast, I often make them the night before and then all you have to do is heat up in the oven so the top gets nice and crispy and then add your chosen toppings and cook a little more.
I'm not claiming these are going to be any good for your diet, particularly when fully loaded with cheese, eggs and bacon but they really hit the spot after a day in the mountains in winter or in summer. Having said that, everybody I see tucking into them over here in Switzerland looks pretty jolly healthy – maybe they are a health food after all!
Made this recipe?
If you make this recipe, do please tag me on instagram @daffodil_kitchen. You could also leave a comment in the box directly below the recipe.

Swiss Rösti
Synonymous with the Alps, Rösti are made from the simplest of ingredients – potatoes, fat and seasoning. Celebrating the magnificence of the humble potato, they should be crispy on the outside and softer on the inside, delicious as they are or loaded with cheese, eggs, smoky bacon and tomatoes.
Course
Breakfast, brunch, Lunch, Supper
Keyword
potatoes, Switzerland, The Alps
Ingredients
Rösti
300g peeled Rösti potatoes per person (or other waxy potato such as Charlotte) 

1 teaspoon salt for the cooking water

15g unsalted butter

15g lard or vegetable oil

up to ⅛ teaspoon salt (to taste)

up to ⅛ teaspoon freshly ground black pepper (to taste)
Suggested Toppings:
50g grated or sliced Swiss cheese (I use Gruyère or Emmental)

1 egg

3 – 4 cherry tomatoes halved or 1 sliced tomato

50g smoked ham

50g cooked garlic mushrooms

50g dried meats

50g smoked salmon, 2 tablespoons sour cream, fresh dill and a lemon quarter
Instructions
Equipment
Serving bowls, if necessary, greased with butter

Kitchen scales and Measuring spoons
Method
N.B. You need to start this dish a few hours or the day before you plan to eat it.

Parboil the potatoes: peel the potatoes and cut into chunks roughly 5cm in diameter. ( I often don't bother with this stage and simply wash and then chop and boil the potatoes. I enjoy a bit of skin, particularly if it is crispy.)

Put into a saucepan with 1 teaspoon salt and cover with cold water. Bring to the boil, cover and simmer for 5 – 8 minutes or until they feel about half cooked. Drain.

Leave the lid off to allow the steam to escape and when cool, cover and put in the fridge for a few hours or overnight. 

Preheat oven to Fan Oven 180°C /200°C/400°F/Gas 6

Grate and cook the potatoes: when the potatoes are very cold, use a Rösti grater or the large side of a box/cheese grater to grate the potatoes

Heat the butter and lard/oil in a cast iron frying pan over a moderately hot heat. Add the potatoes and seasoning and fry until they are slightly caramelised and starting to brown, stirring from time to time. 

Either cook in the oven in the cast iron frying pan or transfer to buttered serving dishes and cook in a pre-heated oven

Cook until piping hot, crispy and lightly browned. The length of time you cook the Rösti for will depend on how much you are cooking and the size of the dish. It will take anytime from 15 minutes for 1 person or up to 40 minutes for 4 people in the same pan.

Serving options and variations:

1. As is with sausages and gravy or HP sauce (Probably Brits only but a must if serving for breakfast!)

2. With cheese cooked on top (add the cheese for the last 10 minutes in the oven)

3. With thickly sliced tomatoes cooked on top (add the tomatoes for the last 10 minutes in the oven)

4. With egg (add the egg for the last 6 – 8 minutes in the oven)

5. Stir through cooked chopped bacon, ideally smoked, at the end of point 7.

6. Layer over some dried meats when it comes out of the oven – serve gherkins and pickled onions on the side.

7. Top with some sliced mushrooms cooked in butter with some garlic and salt and pepper

8. Take the Rösti out of the oven and top with smoked salmon, sour cream, fresh dill and a wedge of lemon

9. Scatter over chopped parsley or thyme

You May Also Like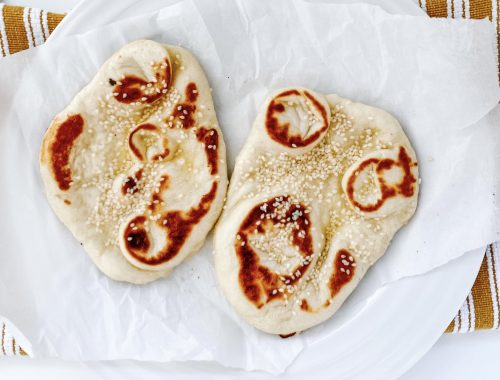 9th May 2021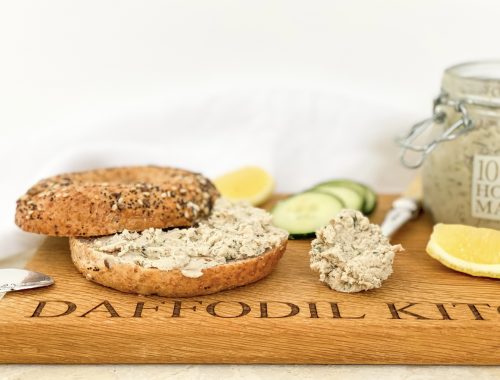 26th July 2021