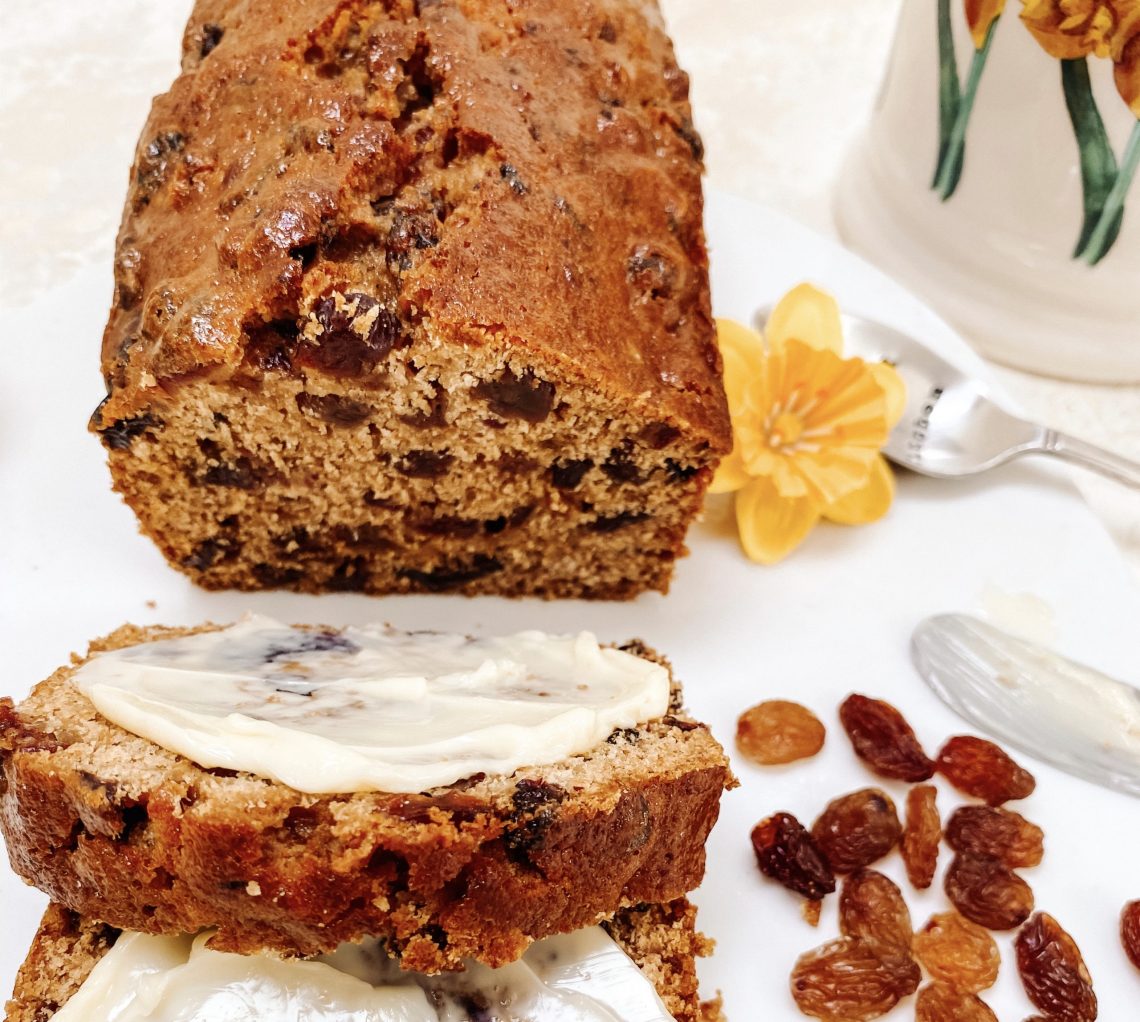 Bara Brith
18th April 2020
Jump to Recipe
Bara Brith, translated as Speckled Bread, is a traditional moist Welsh fruit loaf cooked with delicious spices and loaded with dried vine fruits. More of a cake than bread these days, Bara Brith is traditionally a yeasted loaf enhanced with a little sugar, spices and dried fruits. When people made their own bread, (usually they would do a weekly bake) they would hold a piece of dough back to which they would add sugar, spice and fruit to turn the simple loaf into a wonderful and luxurious treat.
Few people regularly make their own bread these days so the tradition of using dough to make this gorgeous treat is dying somewhat, although some people do still make 'proper' Bara Brith. Please see here for the recipe, if you fancy it! The tradition of Bara Brith as a cake however, is alive and well.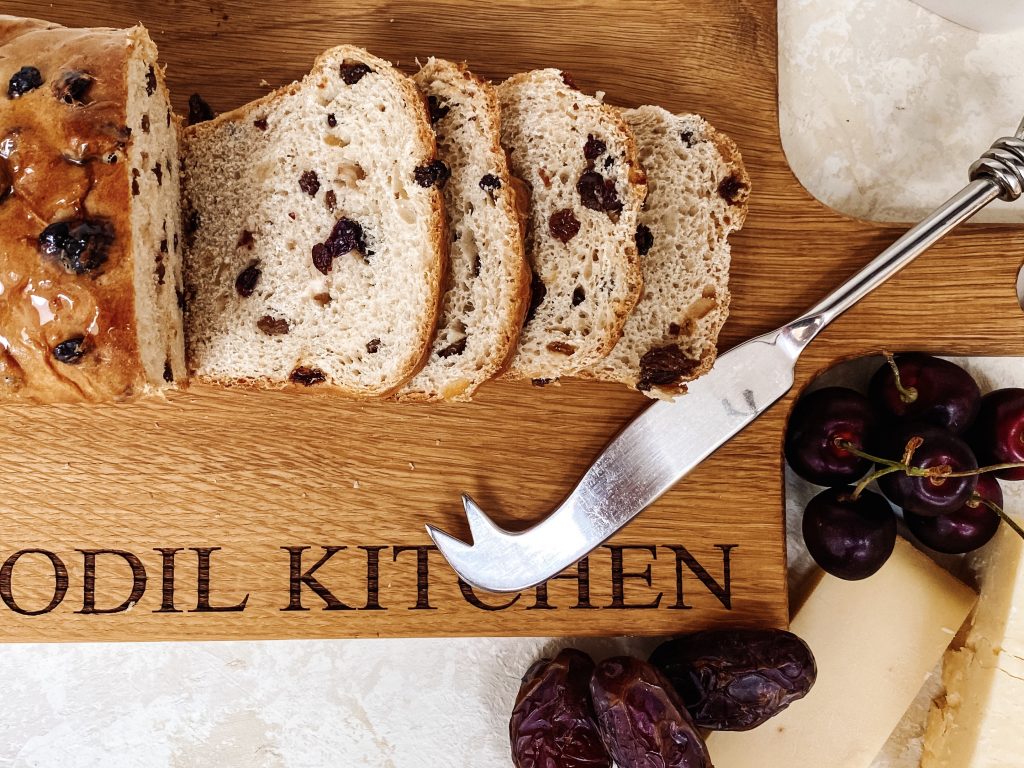 The yeasted form of Bara Brith was served sliced with butter, preferably local farm made salted Welsh butter, and this has continued with the cake form. It is moist and delicious enough to eat without butter, but this is definitely my preferred option.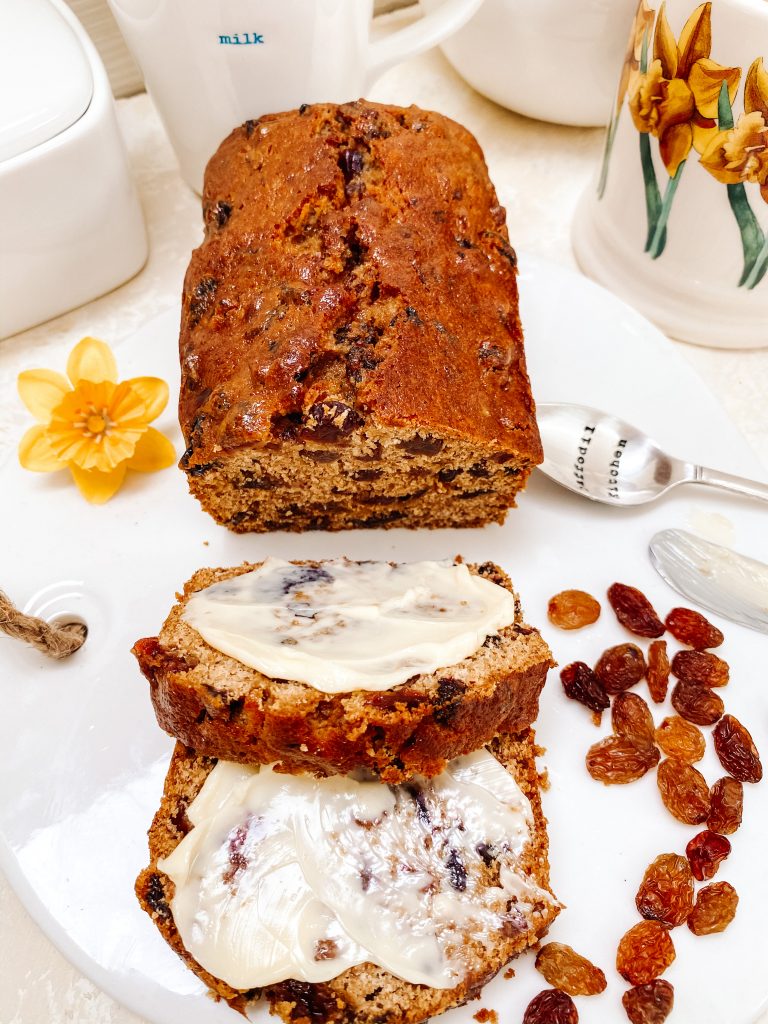 This recipe comes from my mum, who got it originally from an old school friend. If memory serves me right, it was from her friend's mother before that, so it goes back a bit! This cake makes a wonderful gift and is great for posting to friends and family. In fact, I photographed this post whilst making 5 loaves to send as treats for mum and also my parents in-law as we are all isolating during COVID 19. I also regularly made them for my dad, and either posted them or took them when visiting. He was always very appreciative and would tell me that they were delicious, but 'not as good as your mother's!' Cheeky thing – I'm not sure what was different, given it was the same recipe. Maybe he just knew which side of the Bara Brith his butter was on!
How to make Bara Brith
Collect all your ingredients together:
mixed dried fruit, e.g. sultanas, raisins, currants
unsalted butter
milk
caster sugar
plain/all-purpose flour
baking powder
mixed spice
fine salt
large eggs
Like most traditional and classic recipes, there are many versions out there. Many are similar to a Tea Loaf where the fruit is soaked over night in tea, some do not have butter and some use fruit juice. My recipe uses milk and also includes butter. Instead of soaking overnight, you put the fruit, sugar and butter in a saucepan with the milk, then boil it for a couple of minutes and leave to cool before mixing the rest of the cake.
Please note that the quantities given here make 5 x 1lb loaf cakes. They freeze well, and as mentioned before, make wonderful gifts and can easily be posted. As such, I tend to make them in bulk!
Emma's comment when she saw this final photograph, was "Why did you have to take such a large mouthful? You've eaten almost half of the slice in one go!!!". I'm not really sure why she was surprised. In my defence it is a small loaf. Sorry about that – I couldn't help myself, just so delicious.
Pet Update
Look at this gorgeous pair. We have just bought the sheep skin rug for the dog – guess who is taking it over??

They've settled down a bit better now though!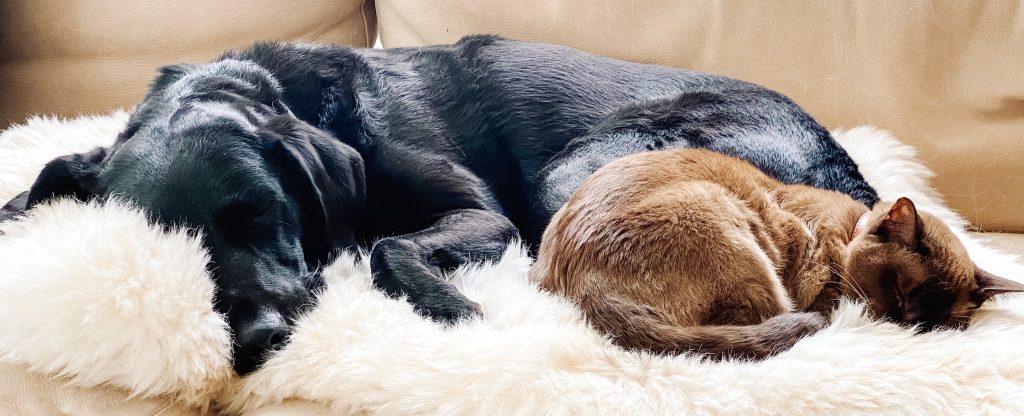 Made this recipe?
If you make this recipe, do please tag me on instagram @daffodil_kitchen. You could also leave a comment in the box directly below the recipe.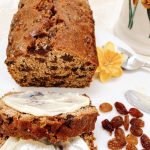 Bara Brith
Bara Brith, translated as Speckled Bread, is a traditional moist Welsh fruit loaf cooked with delicious spices and loaded with dried vine fruits. Wonderful served in slices, ideally spread with salted butter.
Course
afternoon tea, Morning Coffee
Keyword
dried fruit, Fruit loaf
Ingredients
800g mixed dried fruit, e.g. sultanas, raisins, currants (*See Recipe Notes)

250g unsalted butter

560g milk

450g caster sugar

500g plain/all-purpose flour

4 teaspoons baking powder

5 teaspoons mixed spice

¾ teaspoon fine salt

4 large eggs, beaten
Instructions
You need to start making this cake at least 1 hour before you want to bake it, to allow the fruit mixture to cool.

Slowly bring the fruit, butter, milk and sugar to the boil and then boil steadily for 2 minutes. Leave to cool for at least an hour. The milk solids will separate out – this is normal, don't worry. It will come together when you bake the cake.

Preheat oven to Fan Oven 150°C/170°C/325°F/Gas Mark 3.

Prepare the loaf tins by either lining them with greaseproof paper or by inserting a loaf tin liner

Add the flour, baking powder, mixed spice, salt and the eggs to the dried fruit and milk mix. Mix well.

Pour into the prepared tins. I place the tins directly onto the weighing scales, one at a time, and pour in 525g – 535g of the cake batter per cake. Level the surface.

Cook for 1 – 1¼ hours until pale and golden.

Serve sliced, ideally with butter, and a cup of tea!
Recipe Notes
Equipment: 
5 x 1lb loaf tins lined with parchment paper or cake tin liners
large saucepan
kitchen scales and measuring spoons
cooling rack
Dried Fruits:
Although traditionally made with mixed dried fruits such as currants, raisins and sultanas, you can use any dried fruit you like. I have used apricots, figs, dates and glace cherries as well. It is an ideal way to use up dried fruits which are slightly past their best – cooking them with the milk and butter really brings them back to life. 
You May Also Like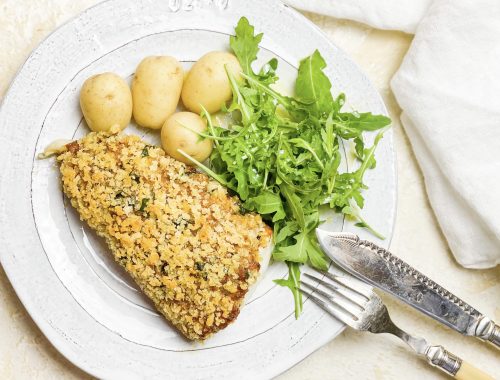 10th September 2021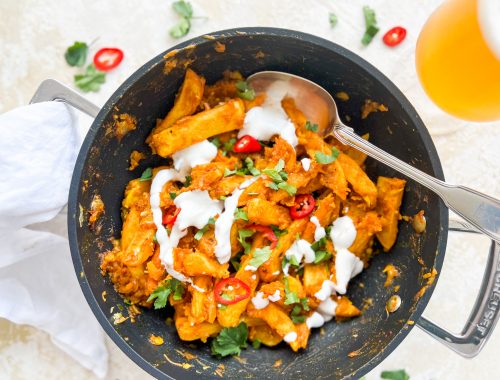 19th March 2023