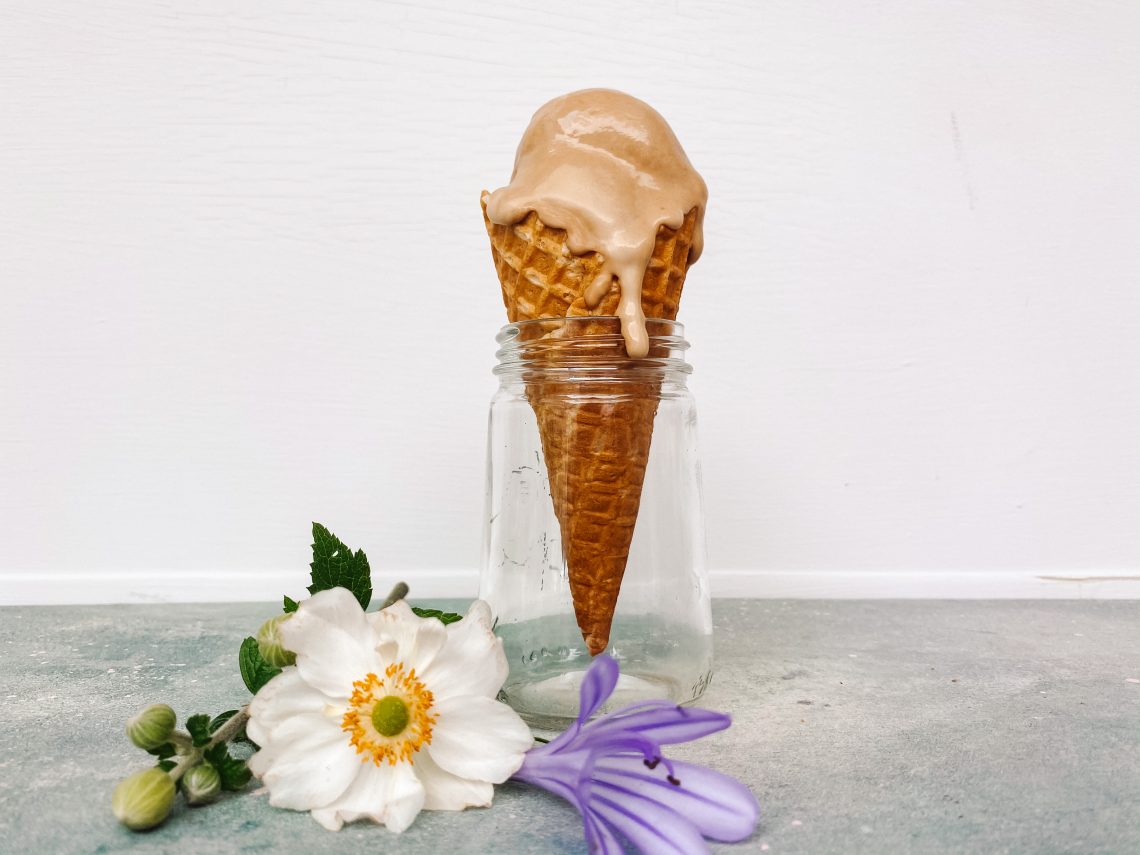 Coffee Ice Cream – No Churn
10th August 2020
Jump to Recipe
Richly flavoured with coffee, this ice cream is so simple to make and still manages to pack a huge flavour punch. We are obsessed with coffee in this house – coffee cake, coffee cookies, coffee ice cream, hot coffee, iced coffee, black coffee, white coffee – you name it, we love it. So what better when it's 37°C in London, than this coffee ice cream? Delightful on its own – but also utterly perfect as a double scoop with my Chocolate Ice Cream with Chocolate Chips: the mocha double but each ice cream shining it its own right. This recipe is adapted from my No Churn Ice Cream – Core Recipe. For other easy ice cream ideas, take a look.
How to make Coffee Ice Cream – No Churn
Collect all your ingredients together:
sweetened condensed milk
instant coffee, ideally instant espresso
boiling water
salt
double cream
Simply mix the coffee and the boiling water. Allow to cool and then whisk into the condensed milk with the salt until well mixed. Add the double cream and whip until thickened. Pour into a freezer proof container. Cover with baking parchment, seal with a lid and freeze for a minimum of 6 hours. Voila!
NB I always add a tiny bit of salt – it really helps to enhance all the flavours.
Also, please note that when I photographed this, I made 6 ice creams in a day and halved the ingredients for each ice cream and this is reflected in the photographs – there is only so much we can eat! Therefore, the quantities you make using the recipe below will be double that shown.
A few hours later!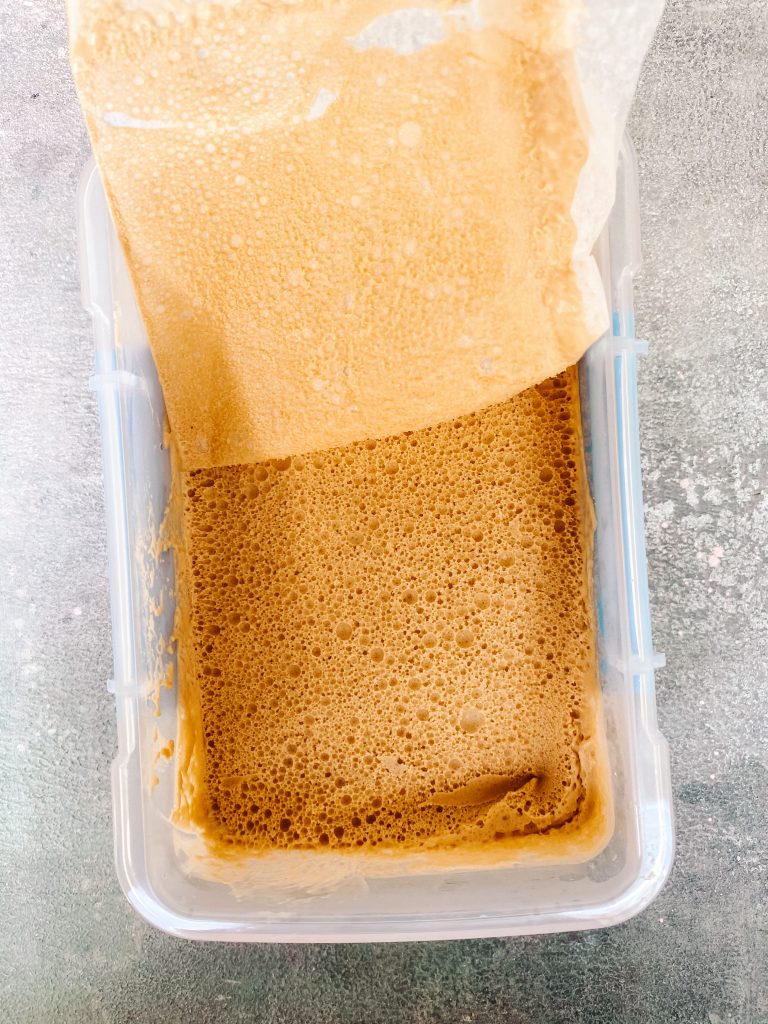 Made this recipe?
If you make this recipe, do please tag me on instagram @daffodil_kitchen. You could also leave a comment in the box directly below the recipe.
Coffee Ice Cream – No Churn
Richly flavoured with coffee, this ice cream is so simple to make and still manages to pack a huge flavour punch.
Keyword
coffee, Ice cream, no churn
Ingredients
1 tin/396g sweetened condensed milk

4 tablespoons instant coffee, preferably espresso powder

2 tablespoons boiling water

⅛ teaspoon fine salt

500g double/heavy cream
Instructions
Collect together your equipment (see Recipe Notes below) and ingredients.

Mix the coffee and boiling water together and set on one side to cool.

Pour the condensed milk into a mixing bowl and add the coffee and salt.

Beat until thoroughly mixed.

Add the cream and whisk until thickened.

Transfer to a freezer proof container with a lid.

Cover the top of the ice cream with baking parchment and seal with the lid.

Freeze for a minimum of 6 hours. Remove from the freezer for 10 minutes to soften a little before you serve it.
Recipe Notes
Equipment:
Kitchen scales and measuring spoons
electric whisk and  mixing bowl
small jug/bowl to mix the coffee
freezer proof container with a lid
baking parchment
You May Also Like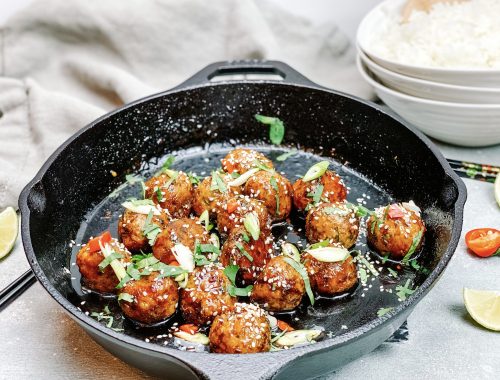 19th February 2021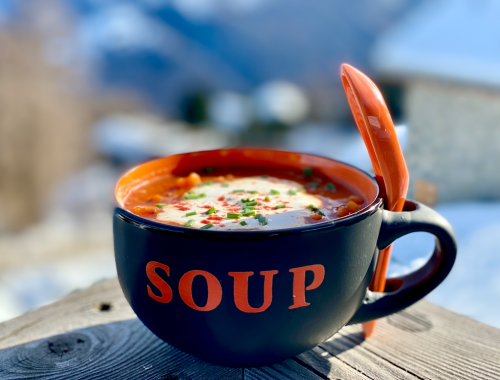 8th January 2020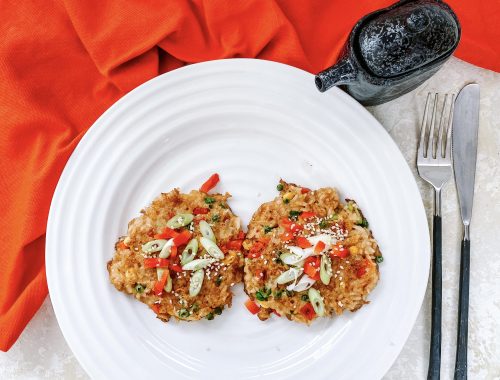 10th May 2021