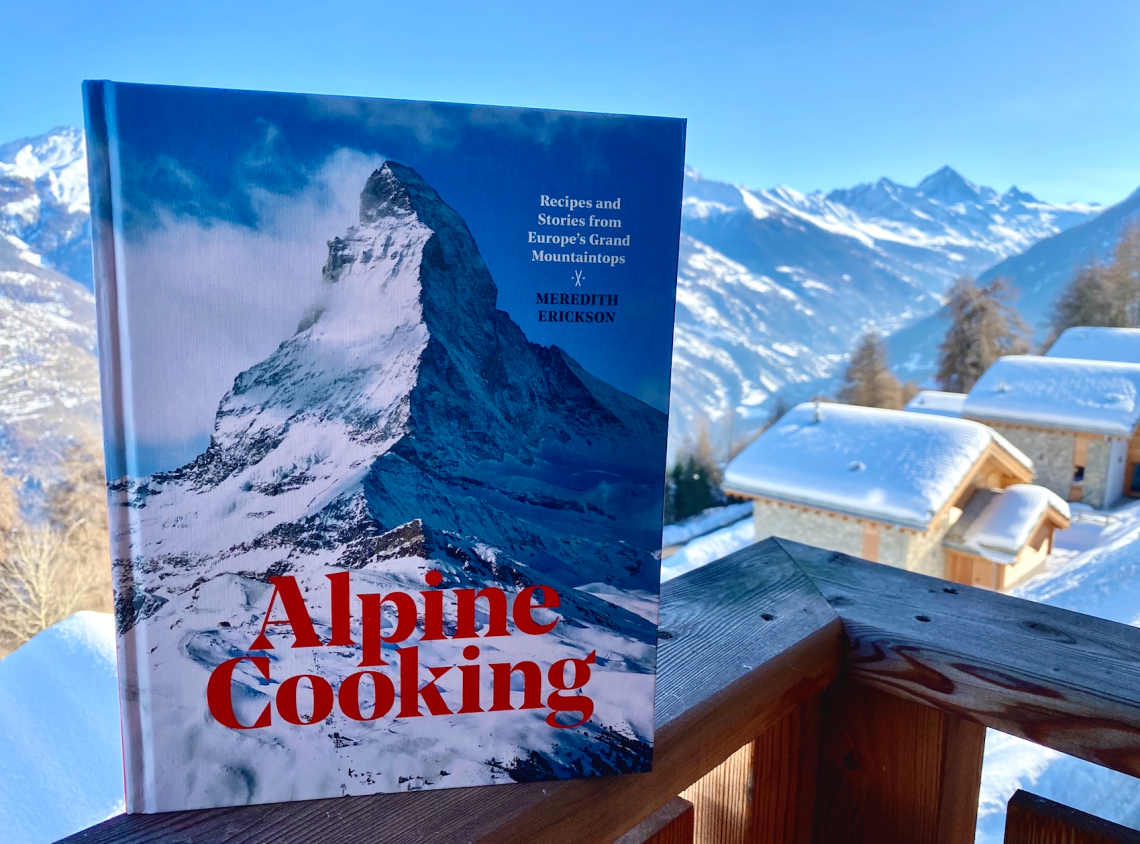 Alpine Cooking By Meredith Erickson
7th January 2020
A celebration of the Alps – a cookery book, a travel guide and a history lesson to nourish your appetite and your mind and feed your inner wanderlust.
Just before Christmas David Lebovitz wrote an article about this book on his blog. I saw the front cover and knew I had to buy it! The cover depicts an amazing photograph of the Matterhorn in Zermatt. We can see it from our chalet in Switzerland – top right hand corner of the photograph above – to the right of the book! It is a glorious view and the backdrop to many incredible sunrises. This is what I woke up to today and how it is now, whilst I write this:
David Lebovitz was the first blog I came across and as such was the first I featured in my own blog. It is very fitting therefore that the first book that I write about, was recommended by David! It is a masterclass in many ways and very evocative of the European alpine areas in Switzerland, Austria, France and Italy. Meredith shares a passion for and a fascinating history of the areas, incredible photographs, mouthwatering recipes and a guide to local wines and other alpine drinks. Her observations and humour come together beautifully in this exquisite book.
Raclette
Raclette, a delicious alpine cheese heated, melted and scraped onto cooked potatoes, is synonymous with the Alps and specifically the Valais area of Switzerland, which is where we come to. You can get it everywhere: in the best restaurants, piste side or even at a stall in our local market in Sion. Be like a local and start the day with cheesy potatoes, some gherkins and a glass of fondant! (Local white wine.) I can't think of anything better! Meredith says the absolute best place is Château de Villa in Sierre – really not that far from us. Note to self – check it out!
Unfortunately my husband is allergic to cheese. I tell him that it is a figment of his imagination but I have to admit he does turn a strange colour of green when we are near fondue and/or raclette or he gets a whiff of parmesan. As such I only ever cook fondue when he is not around and I have never cooked raclette – indeed I don't even have a raclette maker or grill. (I draw the line at parmesan and pecorino though – he just has to suffer!) But last night I really wanted raclette and I am in Switzerland on my own at the moment – just the dog and cat for company! So I set about making a raclette dinner for one melting the cheese in the oven rather than a grill. I took inspiration from the recipe and pictures in Alpine Cooking.
It turned out to be easy, delicious and a definite 'do again' whether cooking just for one or two people or even a crowd – as long as Andrew isn't here that is! Luckily the supermarket sells the cheese in slices now so I didn't have to buy a whole wheel – you can even get it in Waitrose in the UK! You can buy special potatoes for raclette over here. They are a waxy potato and Charlotte or new potatoes would be an ideal replacement.
I served my raclette with boiled raclette potatoes (traditional), baked raclette potatoes (which I prefer), La viande séchée du Valais/Bündnerfleisch (lean beef cured with salt, alpine herbs and mixed spices), gherkins, pickled onions, sliced apple and tomatoes. Apples are regularly served with fondue so I thought this would work well and I also fancied some sweet cherry tomatoes to add some balance to my supper. It was delicious!!
For my full recipe and 'how to' for the raclette, please see here.
Hazelnut Croissant/Nussgipfel
Hazelnut croissant or Nussgipfel are a popular pastry available throughout Switzerland. Essentially they are croissants cooked with a kind of hazelnut frangipane.
We are all massive fans of almond croissants in our house and this recipe really caught my eye. I had everything I needed to make this apart from the puff pastry but I did have a tube of croissant dough in the fridge which I decided would be perfect, so I set to.
Yum yum! A delectable melt in the mouth pastry, typically served warm with coffee. I have to say though, a drizzle of chocolate and a few strawberries on the side would really float my boat!
I only got Alpine Cooking a couple of weeks ago and I really love it! As well as picking out recipes to try, I have lots of ideas of places I want to visit – both close to home in the Valais but also in Austria, France and Italy. Good job the children have now left home; I think it is time Andrew and I started travelling again!

You May Also Like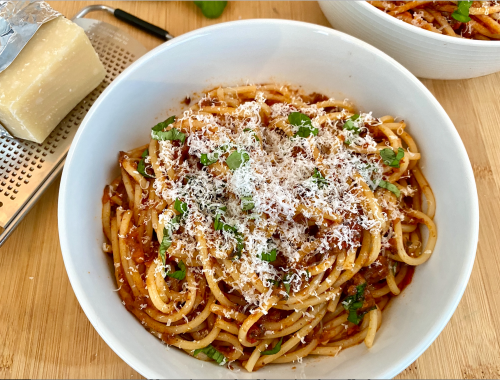 13th January 2020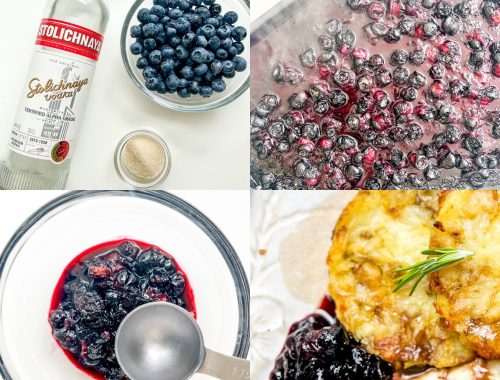 26th August 2022