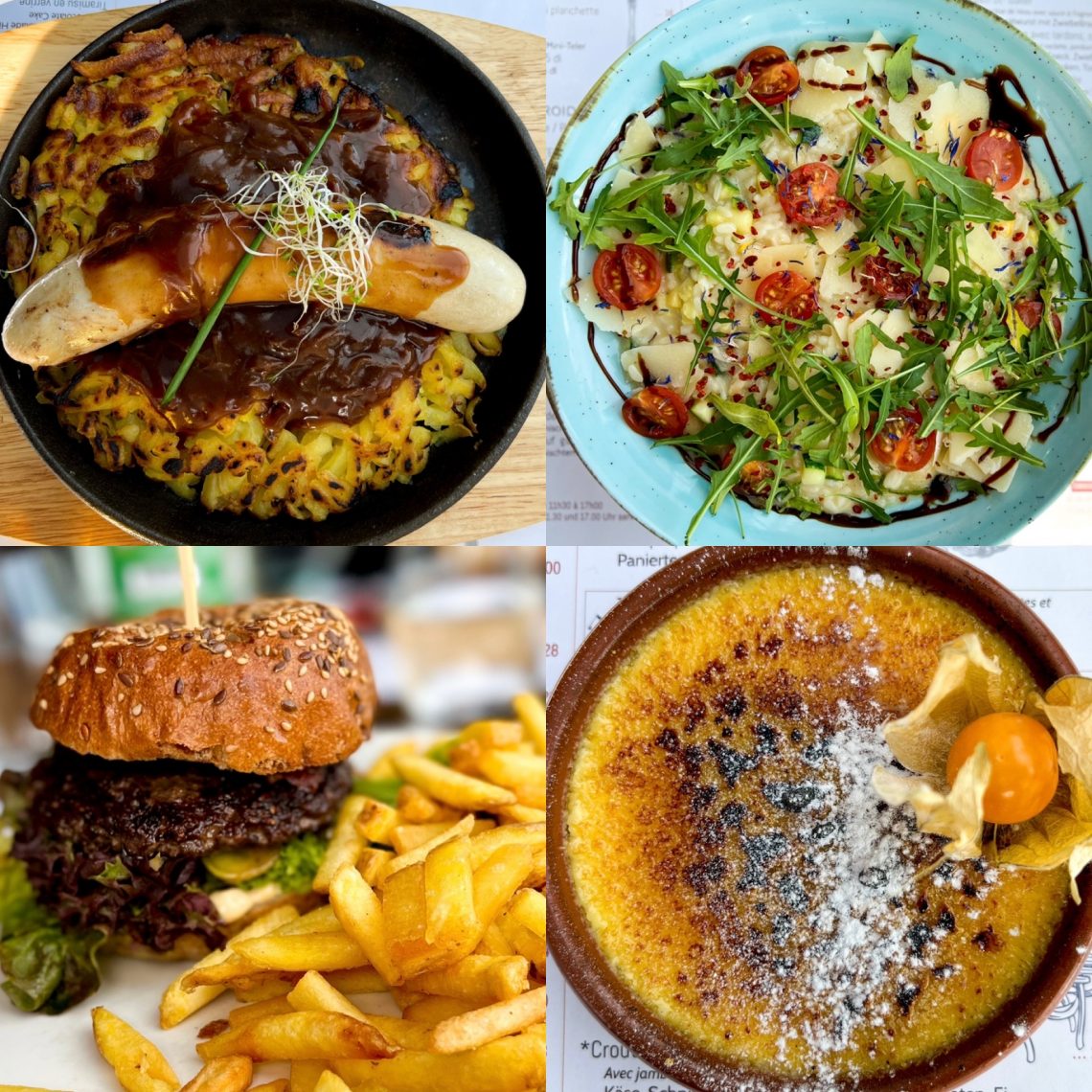 Hotel Restaurant La Cambuse, Les Collons 1900
21st February 2022
We enjoyed a delicious lunch at La Cambuse, in Les Collons 1900, yesterday before Andrew and Harry headed back to London. This welcoming, busy, family run alpine restaurant serves a range of traditional and fusion dishes, with some irresistible desserts, including wonderful fruit tarts. With fabulous views over the Val D'Herens, on a clear day you have an excellent view of Dent Blanche and the Matterhorn in the distance.
Located at the base of the La Matze piste, this hotel and restaurant, also has a fabulous sun deck, which is a perfect place to enjoy a quick hot chocolate or vin chaud and frites, come winter or summer.
What we ate!
Rösti St-Galler – Saucisse de Veau avec Sauce a l'Oignons: veal sausage with onion gravy and rösti
Burger de Boeuf Race d'Hérens, Pommes Frites: beef burger in a bun, using beef from the Val d'Herens, served with hot chips
Risotto au Petits Légumes, Copeaux de Parmesan: vegetable risotto with parmesan shavings, cherry tomatoes and rocket
Crème Brûlée au Poire: crème brûlée with pears
Moelleux au Chocolat Cœur aux Framboises: chocolate fondant heart with raspberries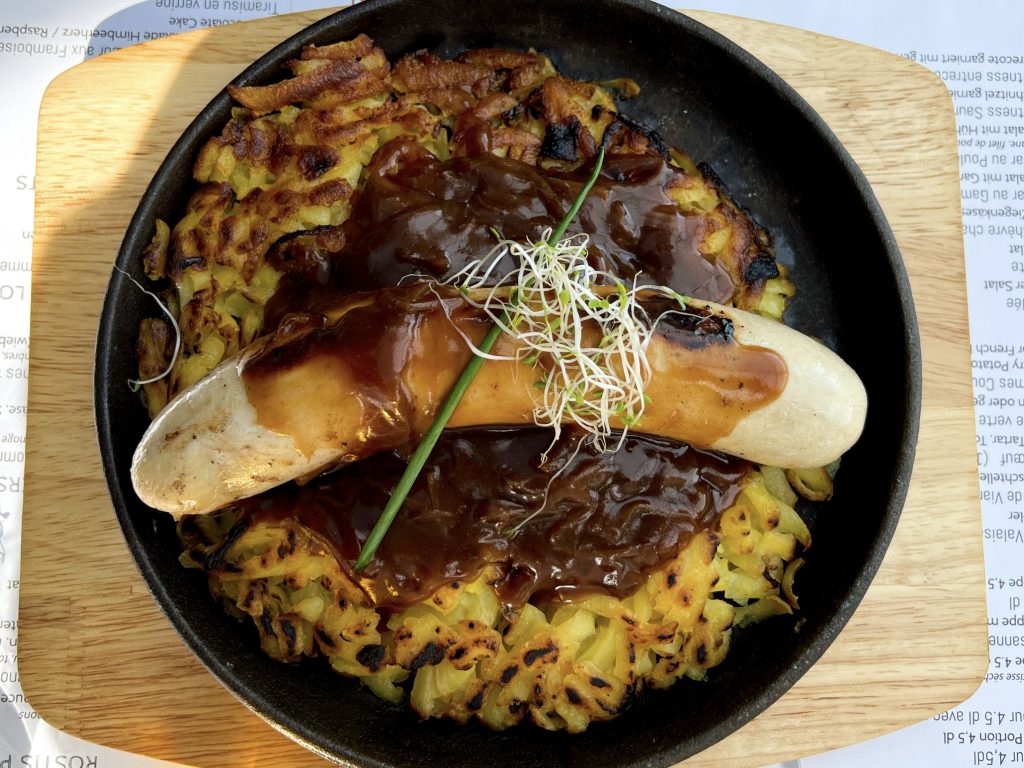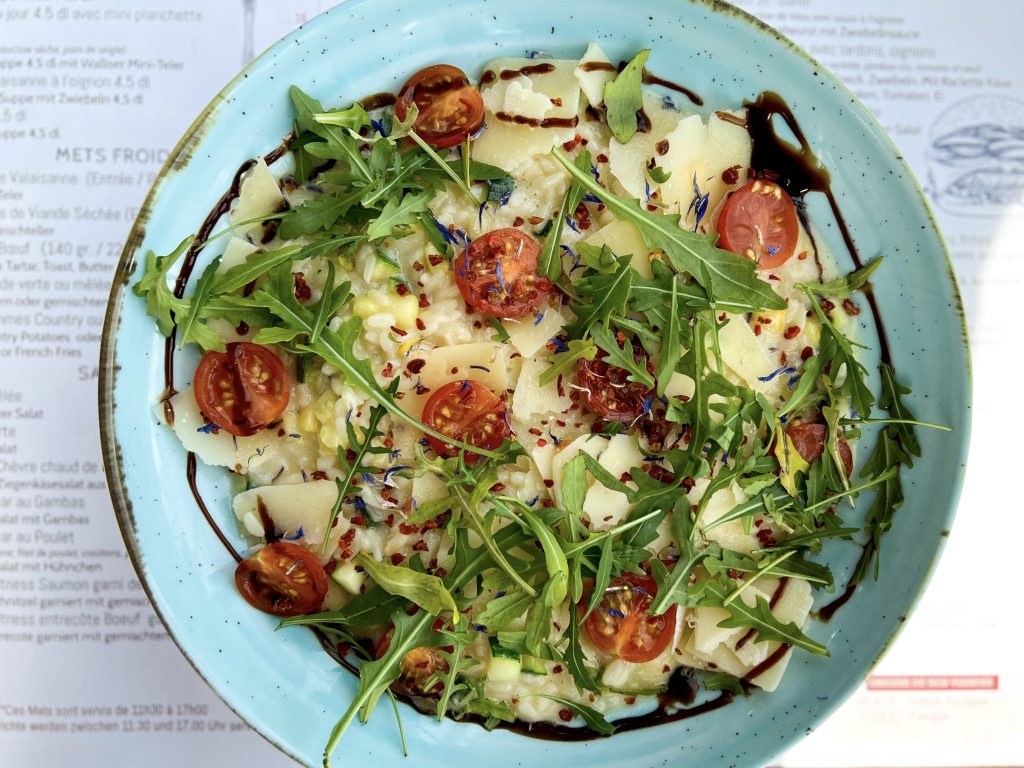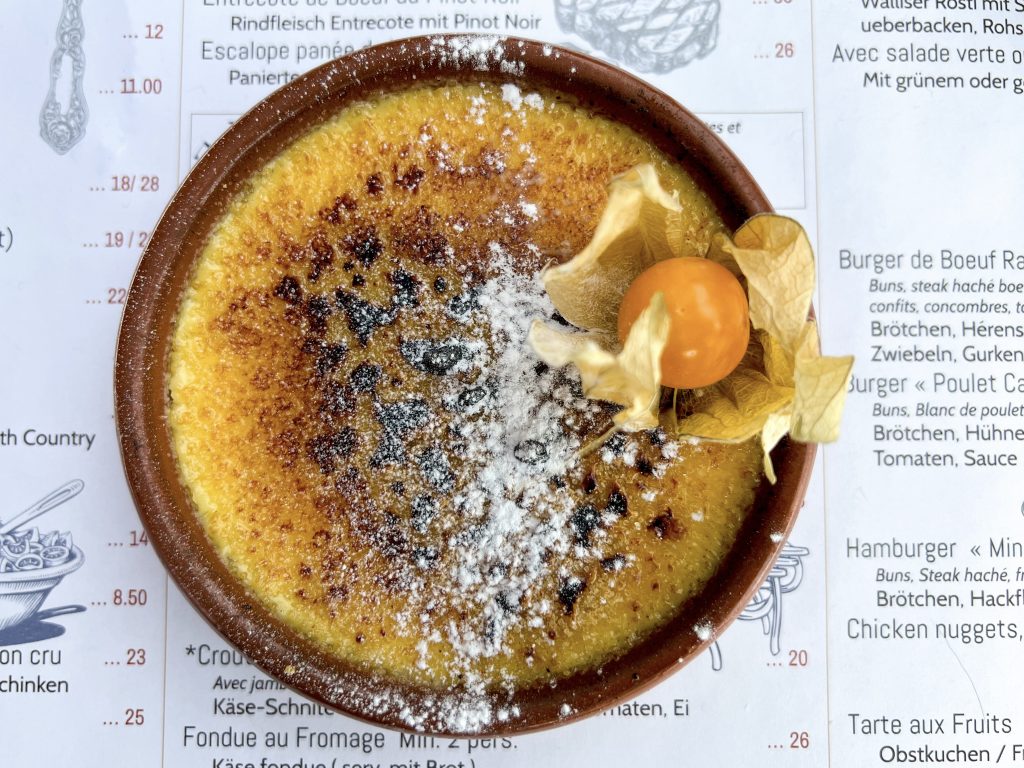 Restaurant with a View:
La Cambuse has a lovely view from the restaurant and a wonderful sundeck overlooking the piste. If eating inside, be sure to book a table near the window for the best view!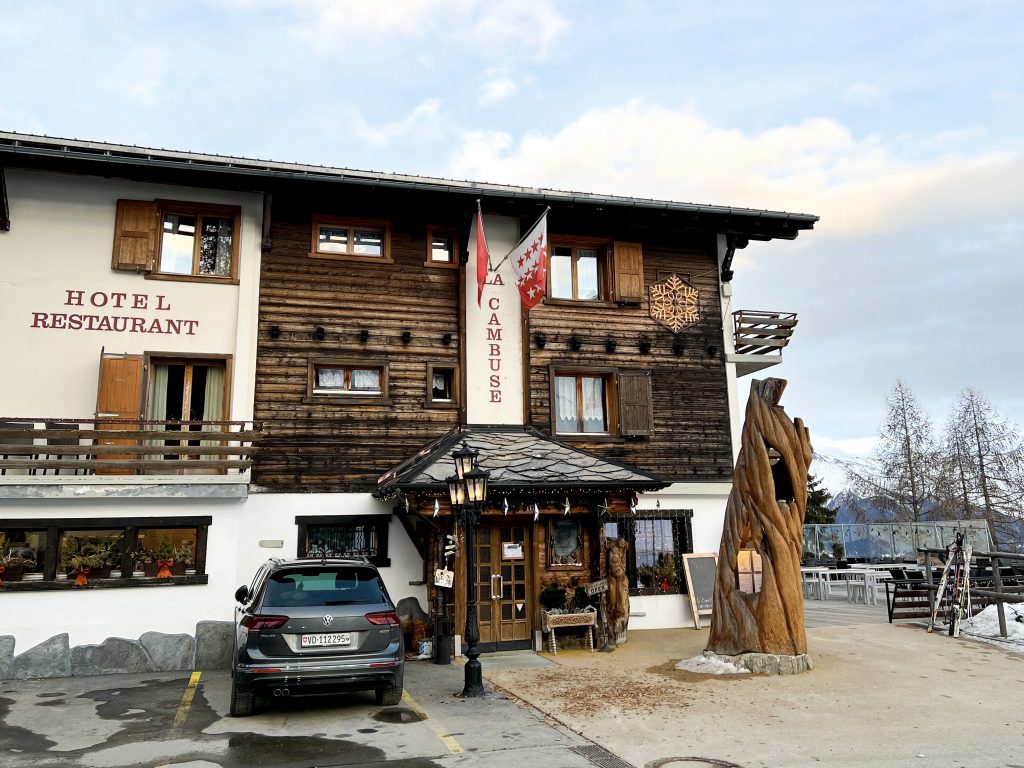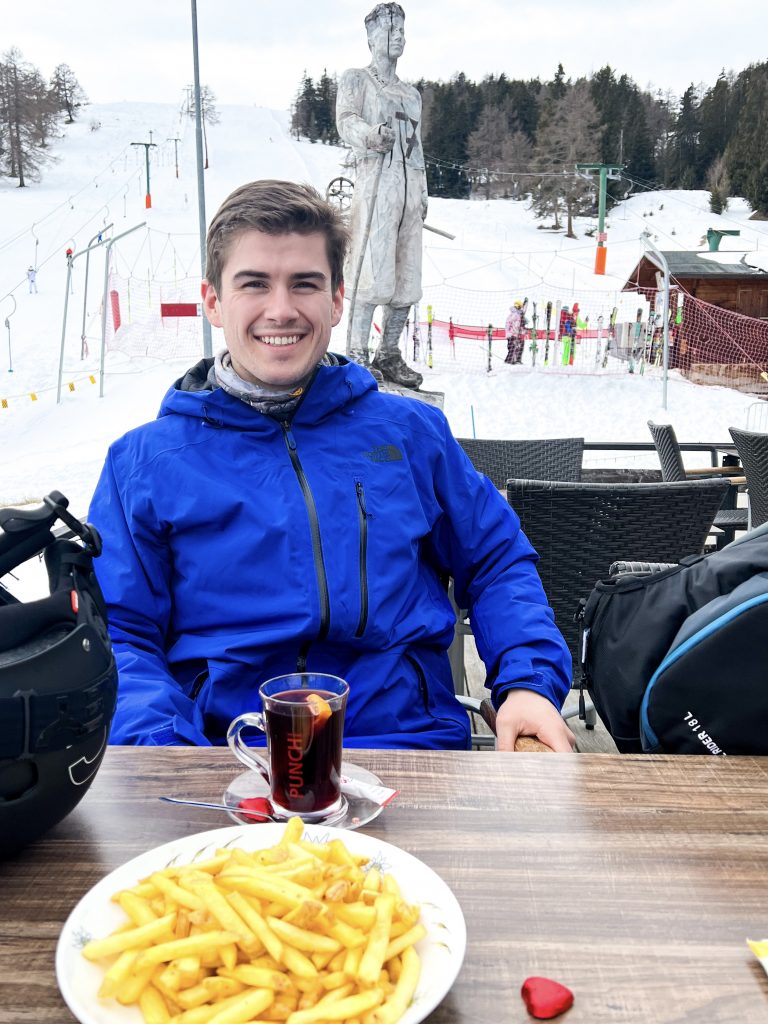 Hotel Restaurant La Cambuse, Les Collons 1900:
If you are in the area and looking for somewhere good to eat, I really recommend La Cambuse. We have been eating here for over 15 years and have never been disappointed. You are guaranteed consistently good food and wine, a friendly atmosphere and a warm welcome. It gets very busy though, so don't forget to book.
Address: Chemin de la bourgeoisie 11, Les Collons 1900, CH-1988 Thyon-Les Collons
Phone number: 0041 27 281 18 83
Email: info@lacambuse.ch
Instagram: @la_cambuse.thyon_les_collons
Website: www.lacambuse.ch
I love to eat out in all sorts of establishments from street food to 3-star Michelin restaurants. I am not a food critic. I am merely sharing with you, what I like and writing about what I find when I am there. The views are all my own and I receive no reward, financial or otherwise.

You May Also Like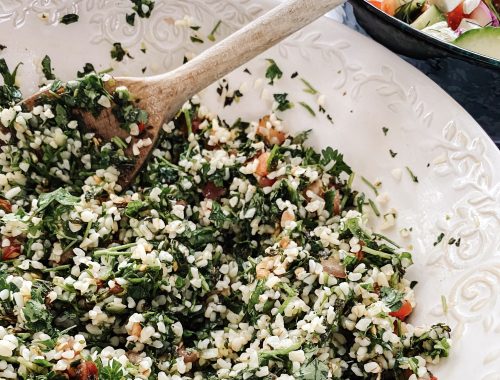 15th May 2020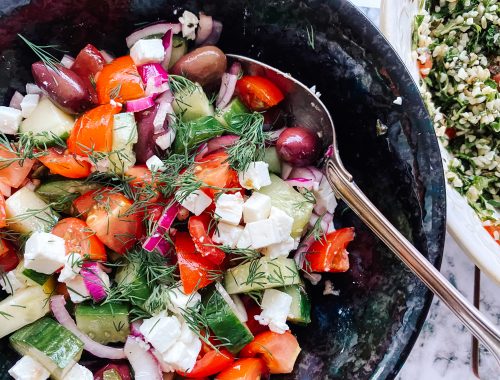 28th April 2020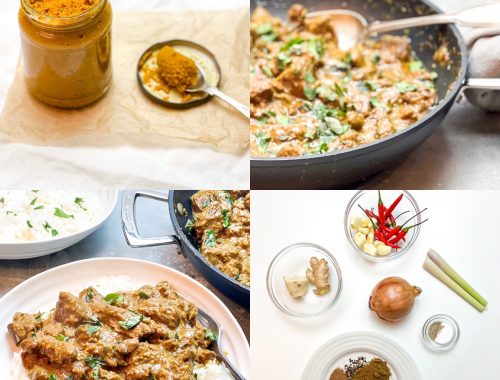 31st December 2021