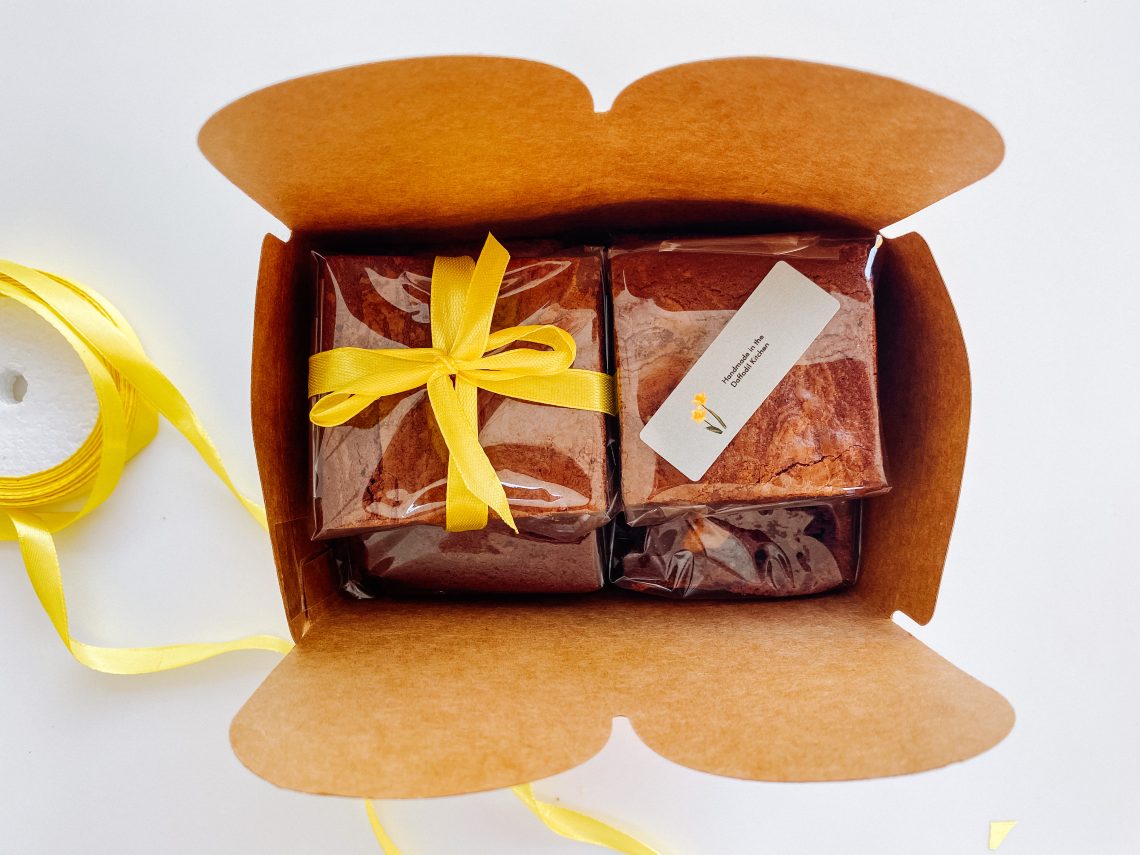 Gifting Cakes
14th December 2020
I love homemade gifts at Christmas, particularly when it is something I can eat or drink! Indeed, homemade cakes and cookies are a fabulous treat to receive at any time of the year but, during the busy Christmas period, they are exceptionally welcome.
If you plan to do this, it is worth investing in some cake boxes. They are widely available on line and as well as through Amazon.
These cakes and slices, which are already on the blog, are great for gifting. 
Gifting Classic Brownies:
I individually wrapped the cakes in cellophane and decorated some with ribbon and stickers
Boxing up Toblerone Brownies:
I gave these to a friend to share with her family, so did not wrap each one individually.
Boxing up mixed cakes to share:
Each cake in this mixed collection is individually wrapped in cellophane. I have also added a sheet describing each type of cake and making it clear which cakes contain gluten, eggs, dairy products and nuts/seeds.
A few top tips to follow:
I wrap large and small cakes in cellophane. Not only does it look professional, it also helps to keep them fresh.
My husband and daughters regularly gift cakes to the hospitals they work in, as well as to other healthcare professionals they work with. When the cakes are being shared in a mixed group, I wrap the small cakes individually – it is safer and more considerate in these COVID days.
Put the cake/slice top side down on the cellophane and wrap – all the edges and tape will then be on the base and out of sight.
Very important: never wrap any cakes unless they have properly cooled – I put mine in the fridge for an hour or two first. Not only does this ensure they are really cold, it makes them easier to wrap as they are harder. 
Adding labels and pretty ribbons will make the cakes look more festive! 
I also add a sheet describing each cake and making it clear which cakes contain gluten, eggs, dairy products and nuts/seeds.
Put a 'this way up' sign on the box if it is not immediately obvious they are cakes!
If posting them, I make them first thing in the morning. I then have time for them to cool and be wrapped and get in the post on the same day.
Make sure they are properly protected in either bubble wrap or a sturdy box.
Plus, make sure they cannot move around. If sending in a box and the box is not quite full, fill the spaces with bubble wrap.
Fit the cakes as snugly as possible:
Posting Classic Brownies in a tin:
Line tin with large sheet bubble wrap and greaseproof paper before adding a single layer of brownies.
Top with a sheet of greaseproof paper and another layer of brownies.
Top with a further layer of greaseproof paper.
Fold over over-hanging greaseproof paper and use the overhanging bubble wrap to wrap the brownies.
Make sure the brownies cannot move by filling any spaces with more greaseproof paper.
Sending a loaf cake:
I wrapped this Bara Nadolig a 4 layers of bubble wrap and then in brown paper. It arrived in perfect condition!
You May Also Like