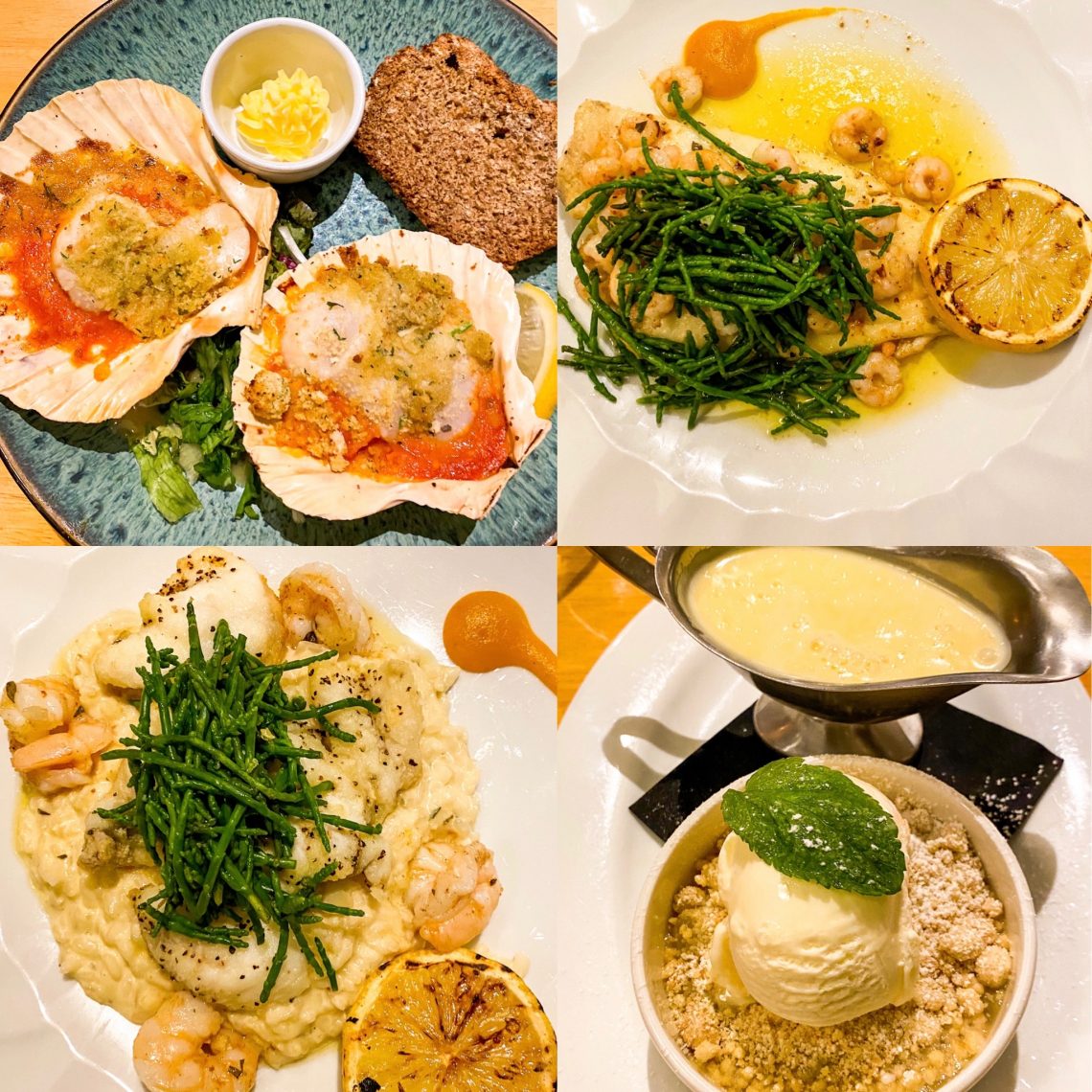 Tartine Restaurant at the Distillers Arms, Bushmills, Northern Ireland.
27th September 2021
Tartine Restaurant, at the Distillers Arms in Bushmills, Northern Ireland, is a friendly brasserie, which serves modern European food, using local produce, in a relaxed environment. The building was once home to the owners of the local Bushmills whiskey distillery. Subsequently it became a pub with lodgings and it is now a restaurant.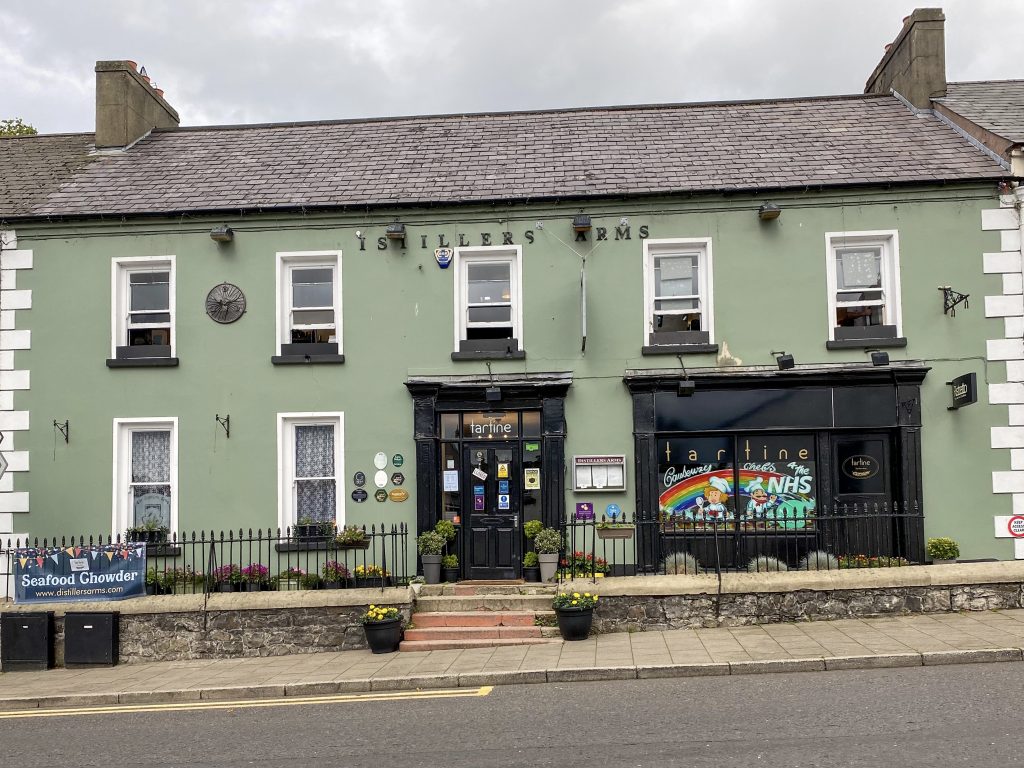 Conveniently located on the high street, it was just a short stroll from out hotel, the Bushmills Inn. Popular with locals and the many visitors to the area, it can be difficult to get a table so make sure you book, particularly at the weekend.
What did we eat?
Starter –
Andrew kicked off with a special – some melt-in-the-mouth scallops served in their shell with a crispy breadcrumb topping. Andrew loved it . It looks good in the photograph but, to be honest, it tasted much better!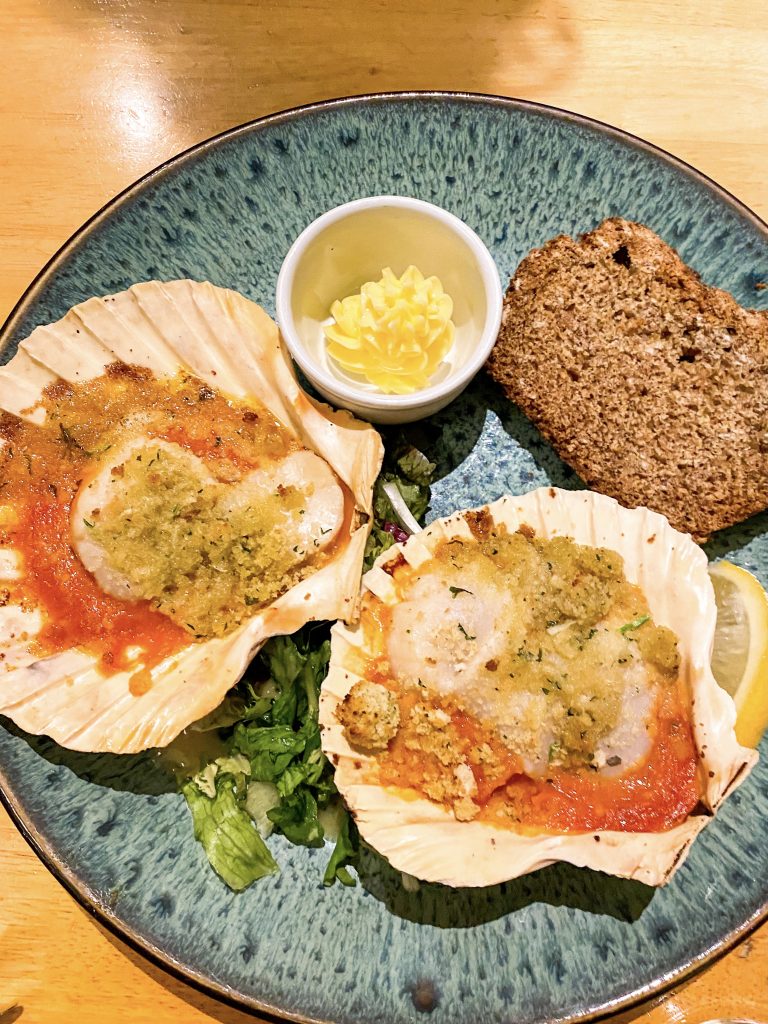 Main courses –
For my main course, I then chose the 'Liers Larder' Ballycastle plaice, baked on the bone with buttered samphire, tarragon and prawn butter sauce. The fish was beautifully cooked and the rich flavourful sauce perfectly balanced with the salty samphire and zesty grilled lemon.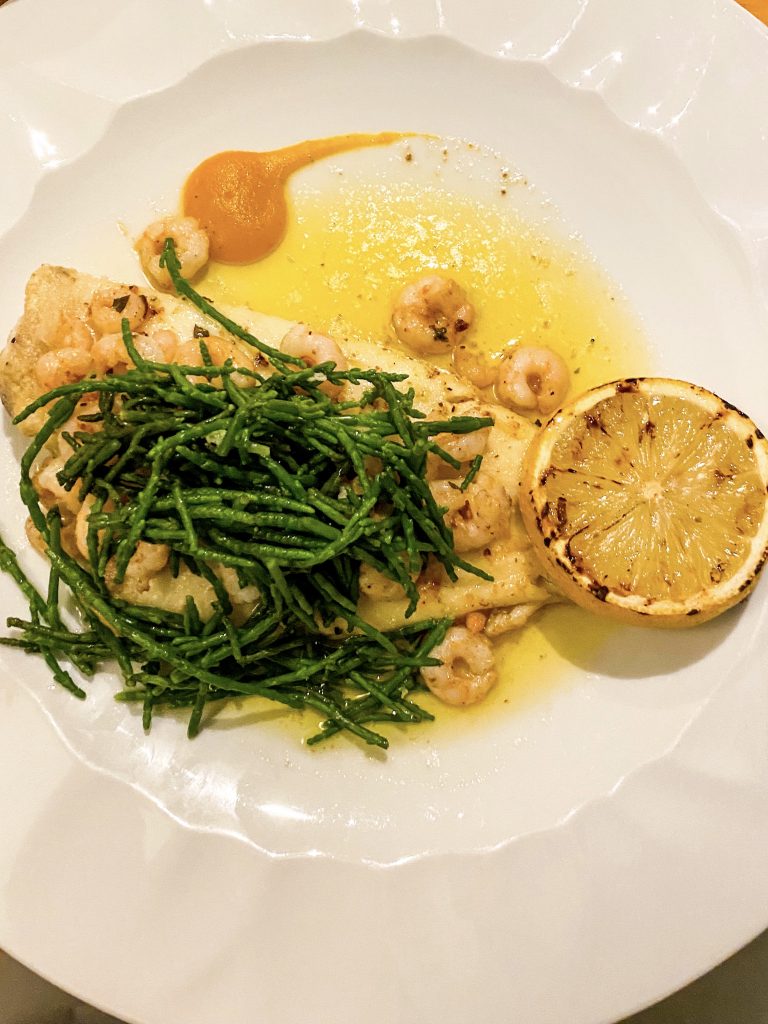 Andrew chose another special for his mains – the monkfish and prawns served with a seafood risotto and samphire. This packed a huge flavour punch – the risotto particularly, was outstanding.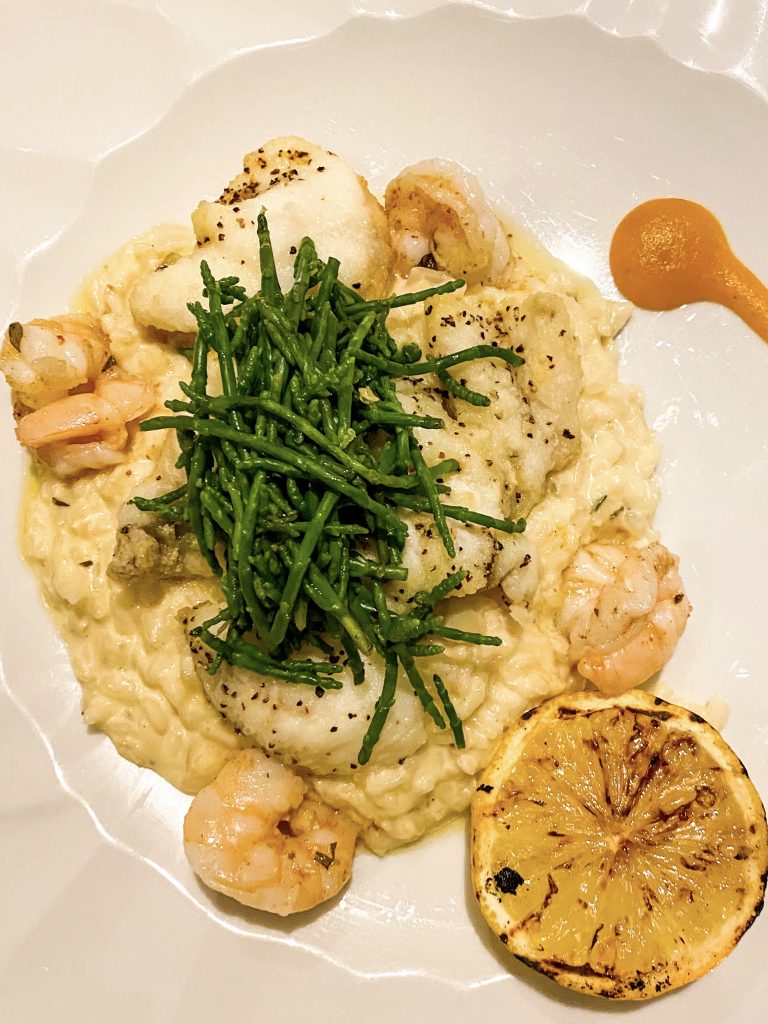 Sides –
We ordered the vegetables of the day (not photographed) and because we were in Ireland, we had to have the potatoes. The crispy baked potatoes in their skin were absolutely fabulous.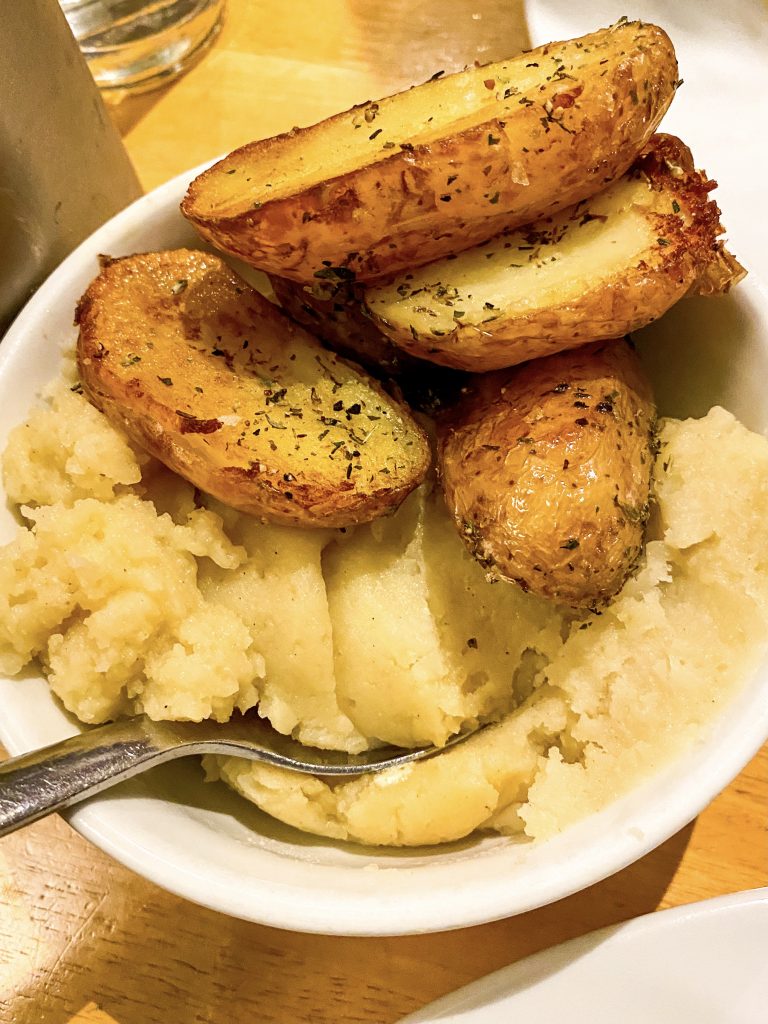 Dessert –
Andrew declined dessert, but as soon as I saw the rhubarb and apple crumble with creme anglaise on the menu, there was no way I wasn't going to order this. To be honest, I could have eaten all the desserts, but fortunately this incredible crumble more than made up for missing out on the other desserts! I asked for a large portion of creme anglaise and they even added a dollop of ice cream. Just scrumptious.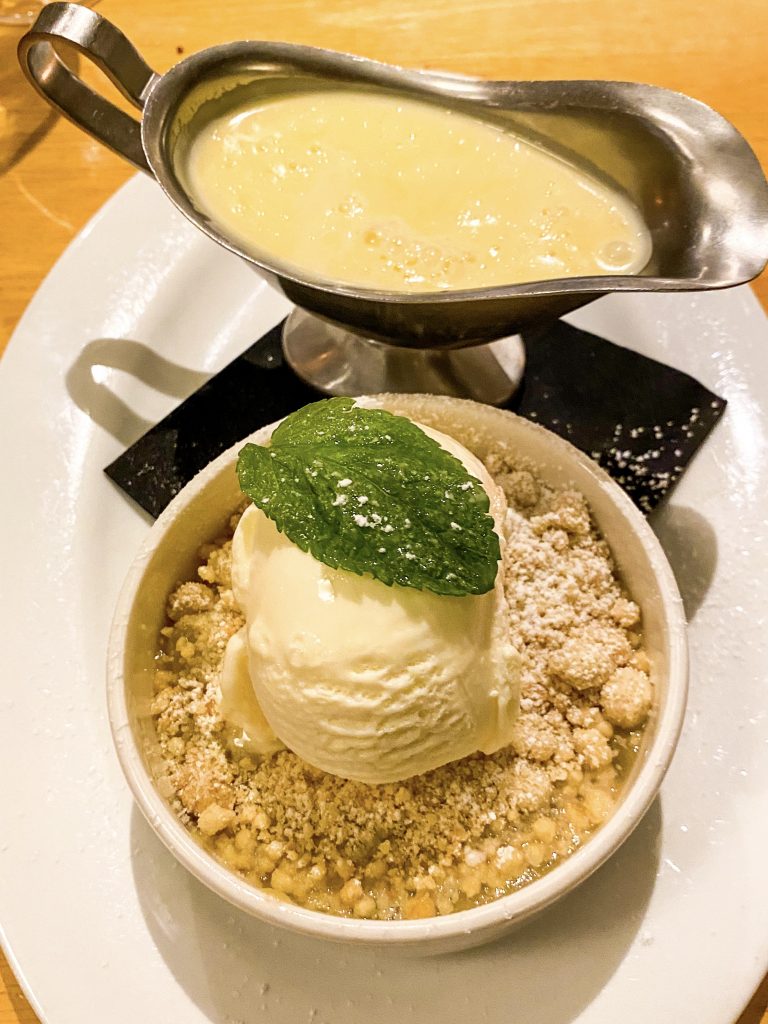 We had a super evening and enjoyed a selection of delicious, wonderfully delicious comfort food, washed down with a bottle of albariño white wine. Thank you so much to Susie Mortimore for the recommendation.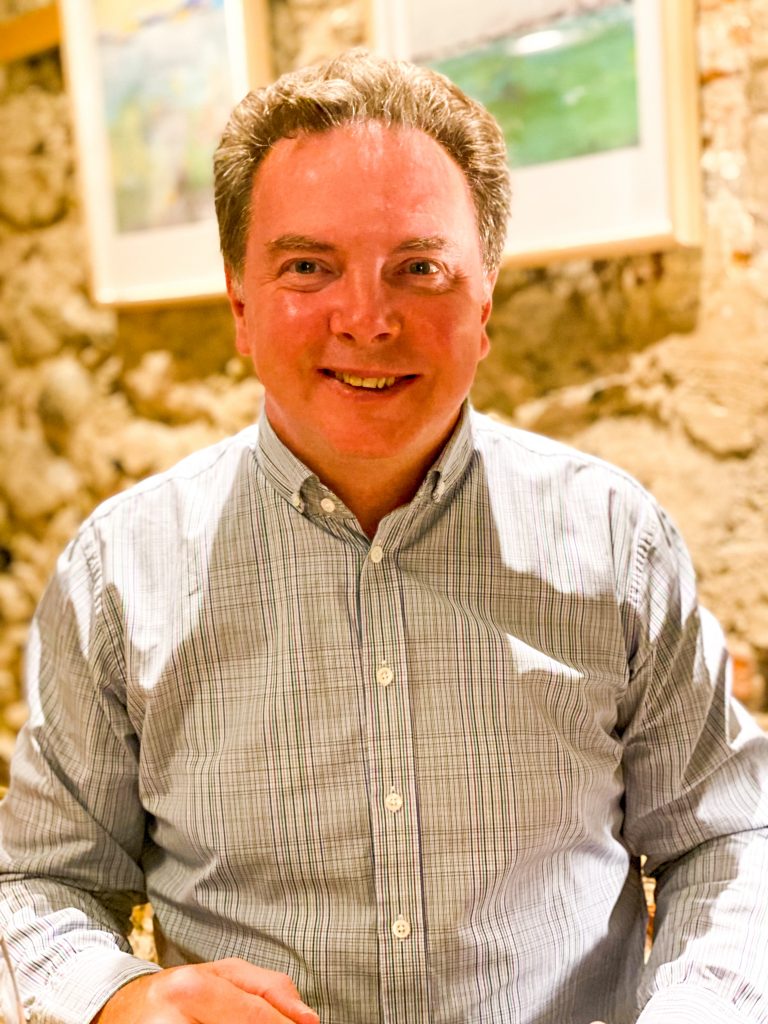 Contact Details:
Address –
140 Main Street
Co.Antrim
Northern Ireland
BT57 8QE
Tel: 028 2073 1044
Email: info@distillersarms.com
NB I love to eat out in all sorts of establishments from street food to 3-star Michelin restaurants. I am not a food critic. I am merely sharing with you what I like and writing about what I find when I am there. The views are all my own and I receive no reward, financial or otherwise.
You May Also Like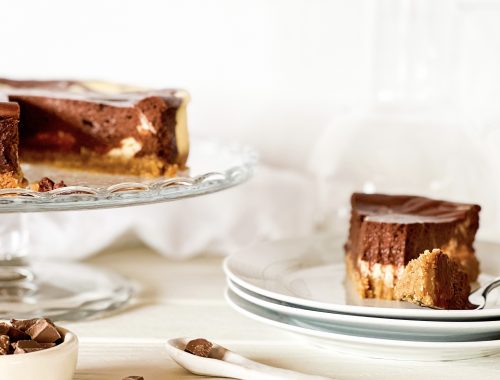 17th February 2022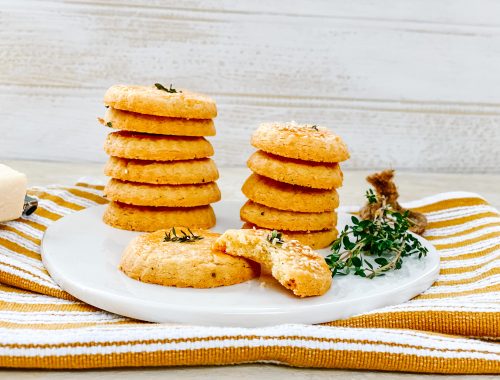 16th June 2021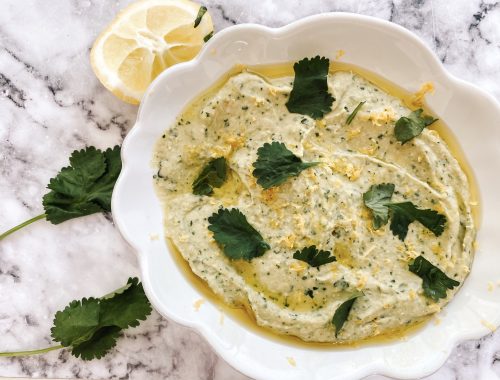 17th April 2020