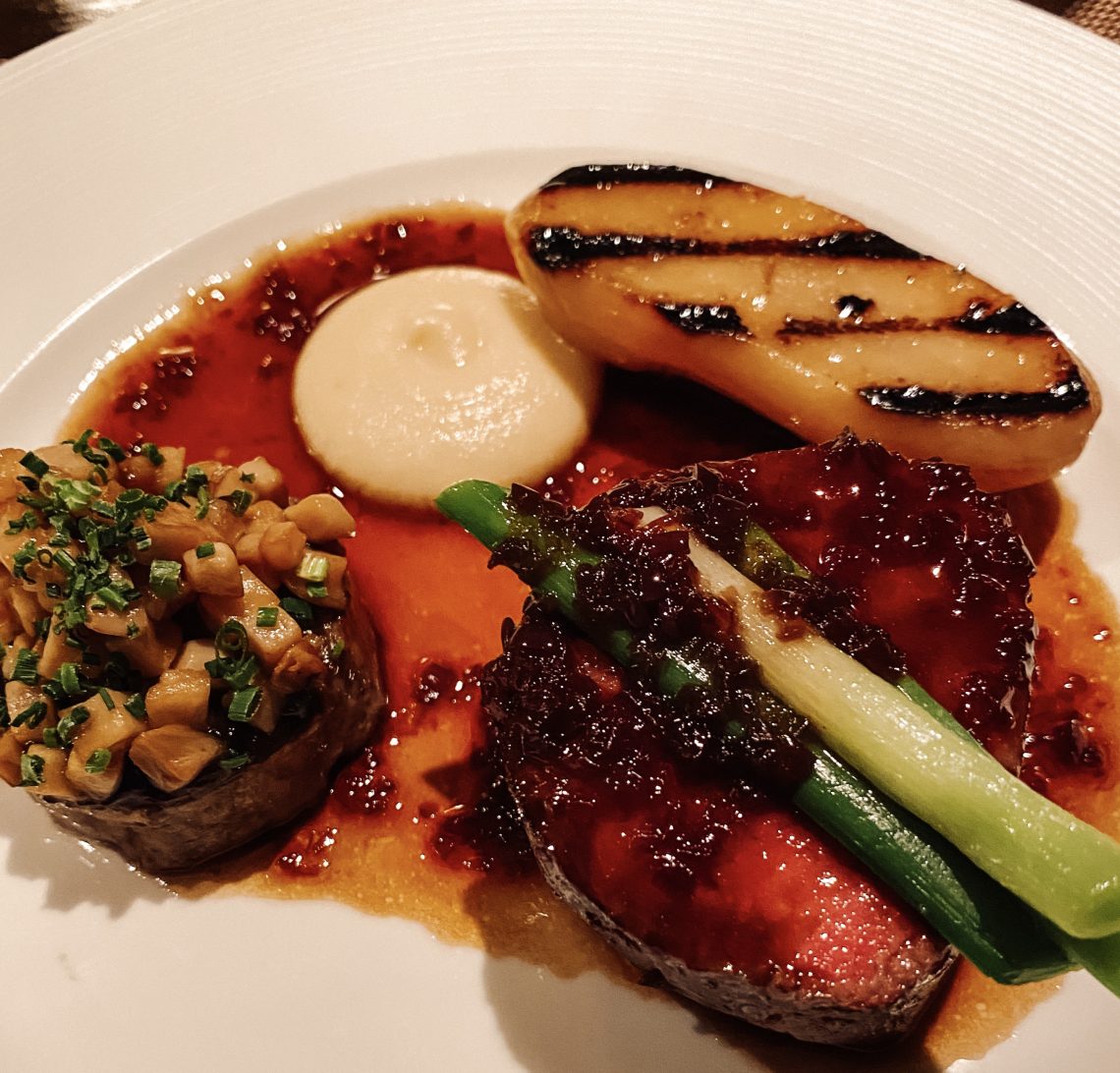 Odette's Restaurant, Primrose Hill, London
30th August 2020
Having yet again visited Bryn Williams at Porth Eirias, North Wales, last week, it was time to try out his London restaurant, Odette's in Primose Hill.
Oh my, it did not disappoint. This neighbourhood restaurant in a rather fashionable area of London near Regent's Park, serves beautiful, delicious, seasonal, food in a relaxed and comfortable environment. The service was excellent and we enjoyed British food cooked with both care and flair. The ingredients are mostly sourced from around the UK with an emphasis on Welsh ingredients, where Bryn is from.
We were treated to delicious goujères, light cheesy balls of choux pastry to kick off the meal. We were very hungry and managed to scoff them down before I remembered to take a photograph! So you'll just have to trust me!
Starters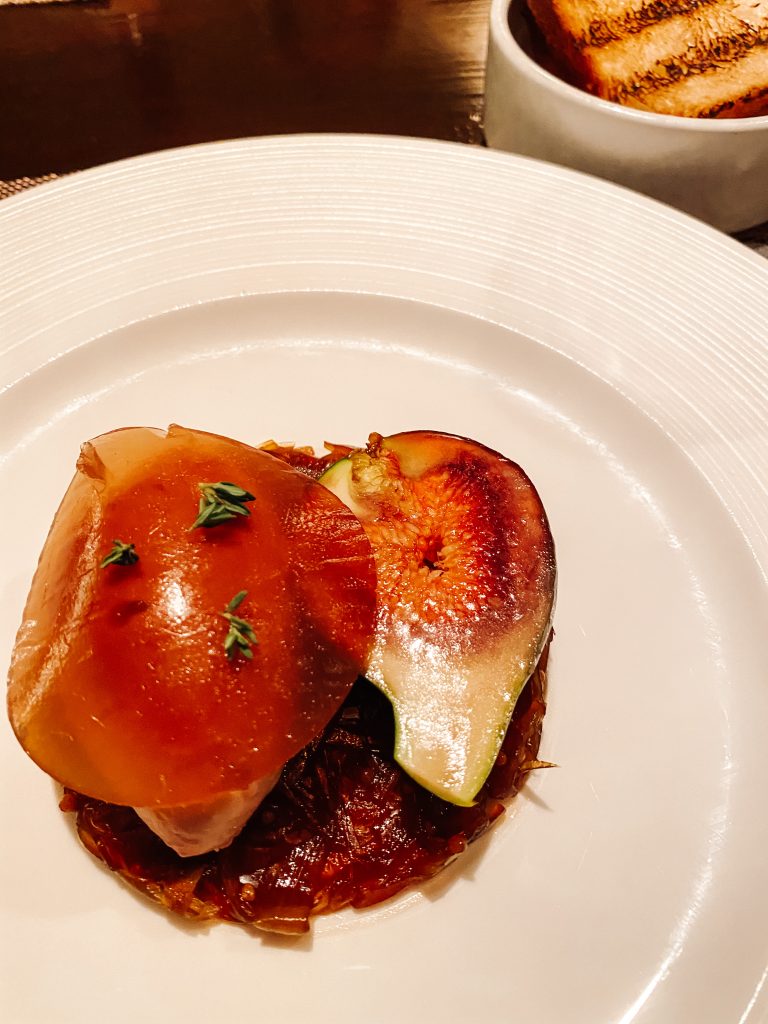 Andrew started with Chicken Liver Parfait with Shallot Marmalade, Madeira Jelly and Pain de Mie. As soon as I saw this on the menu, I knew Andrew would choose it – one of his favourites. The flavourful parfait was light and velvety smooth and I loved (stole!) the fresh fig, served on the side.
Charlotte chose the Cured Sea Trout, Confit Potato, Crème Fraiche, Buckwheat and Pickled Cucumber. Whenever there is cured or smoked fish on the menu, Charlotte is a very happy bunny. Another huge thumbs up.
Emma and I decided to share the Garden Beetroot Tart with Black Olives, Sour Cream, Herb Pesto and Balsamic. That was a mistake – we should have had one each! Not only was it beautiful to look at, it was an absolute winner as far as we were concerned. Just fabulous.
Beautiful Daughters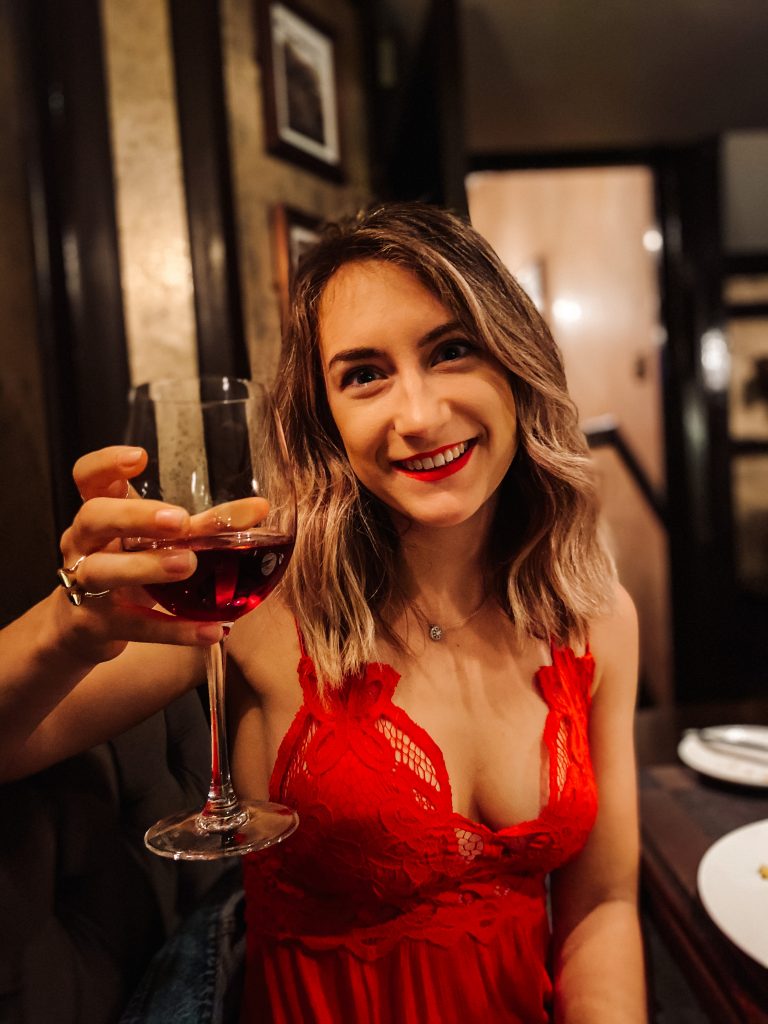 Despite all the difficulties the world has faced coping with COVID 19, we were so lucky to have these two at home for a few months. A rare treat now that they are grown up!
Maincourses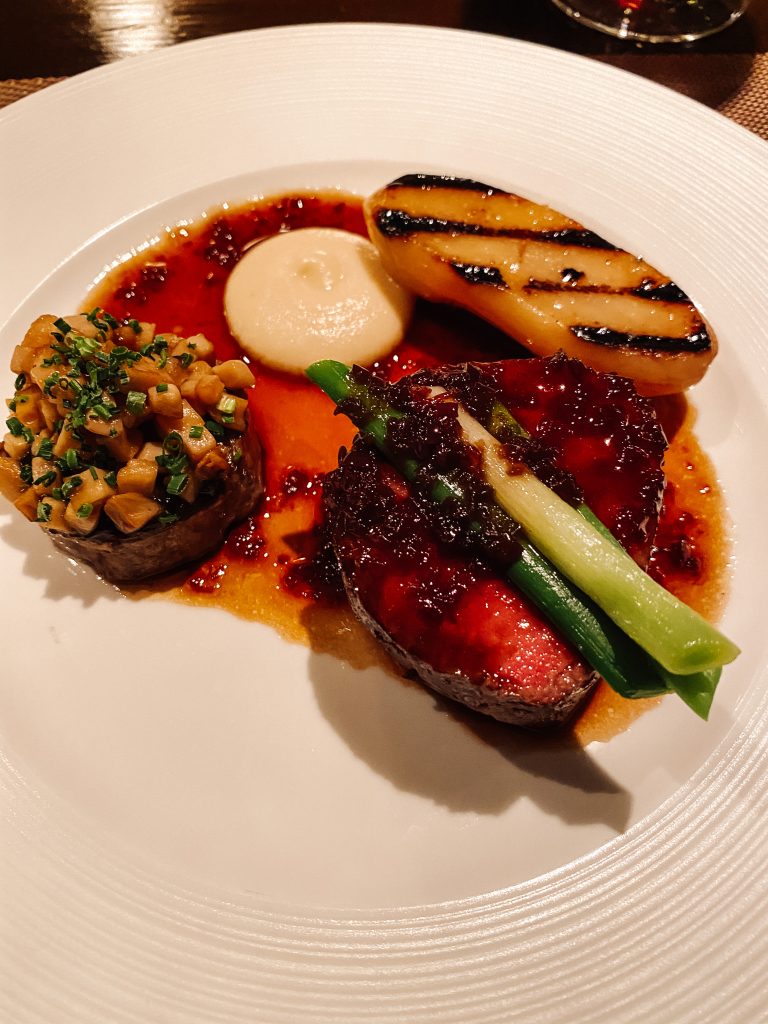 Also coming from Wales, Andrew absolutely could not resist the Pedigree Welsh black beef sirloin with white onion puree, beef fat potato and roast mushroom dressing. Perfectly cooked, the melt-in-the mouth beef was accompanied by caramelised beef fat potato – this was divine.
I went for the fish of the day which was Cornish cod Grenobloise, brown shrimps, creamed potato and lemon beurre blanc. Grenobloise is a traditional French sauce from Grenoble. It is made from browned butter with lemon, capers and parsley and frequently topped with crunchy small croutons. This one was enhanced with some brown shrimps as well – a taste and texture heaven particularly when combined with the dreamy, pillows of creamed potato and the lemon beurre blanc.
Both of the girls went for the Parmesan gnocchi, burrata, pea and mint, Roscoff onion and potato tuile. A fabulous combination which they both loved and gave me a little taste. Hurrah! I haven't made gnocchi for a while and this has got me thinking about making some in the very near future and all the different ways it can be served! Watch this space!
Wine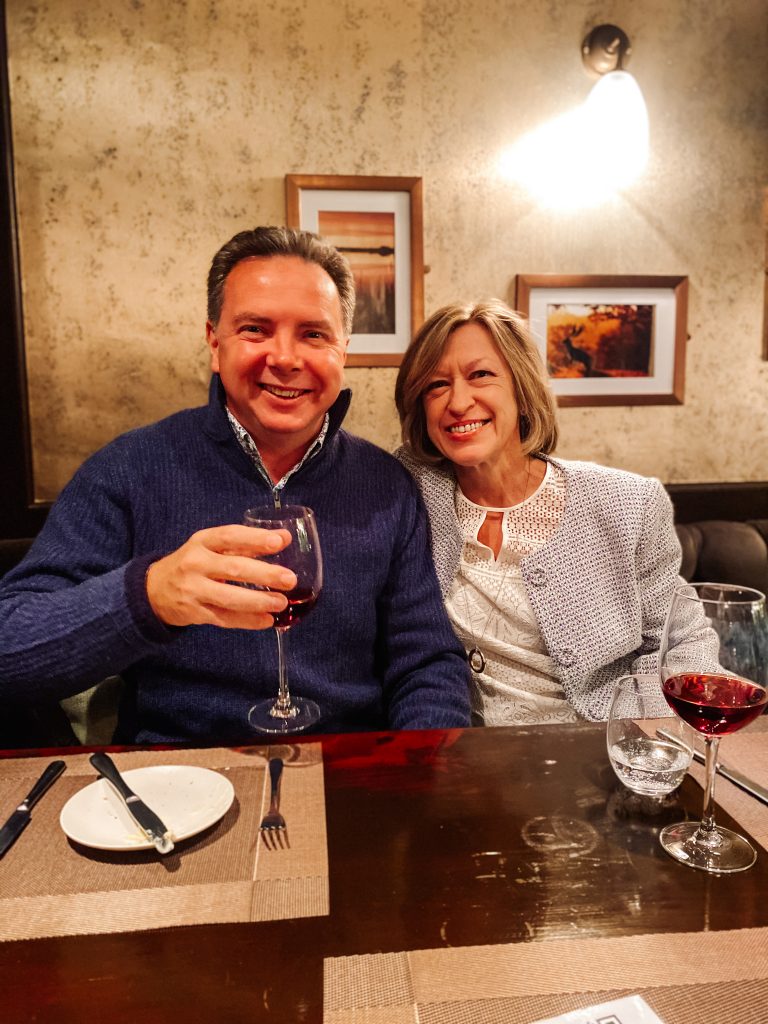 Andrew chose a New Zealand Pinot Noir from the Mount Brown Estates in North Canterbury. Delicious, full flavoured yet quite light, this worked well with all our mains – even mine. However as nominated driver, I only had a sip. ☹️
Desserts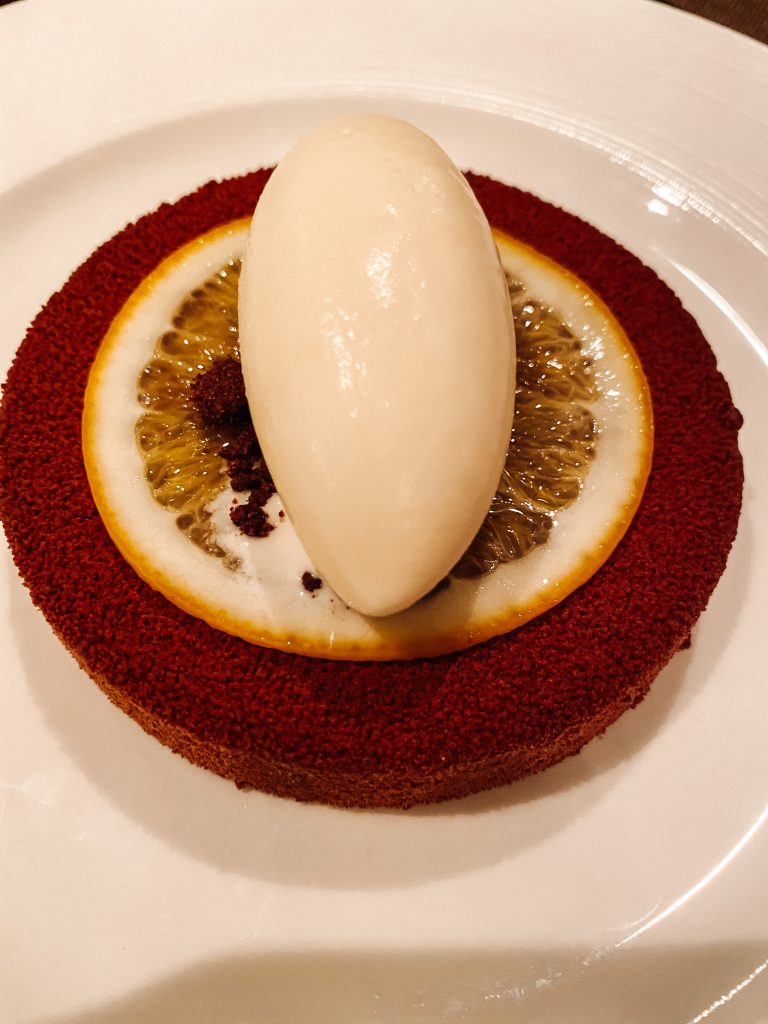 Both Andrew and Charlotte chose the Jaffa Cake with salted milk ice cream, confit orange and chocolate crumb. They were in raptures! Luckily Charlotte let me try hers and, oh my, chocolate orange heaven.
Emma was too full to order a dessert but I went for the Mascarpone cheesecake with poached plums, plum sorbet and a ginger and wine jelly. I truly cannot resist cheesecake and my favourite homemade jam is plum and ginger, so I had to try this. Not a crumb left – just gorgeous.
To finish
To finish, I asked the waiter if I could have a cheeky slice of Bara Brith. Bryn serves this with his selection of Welsh cheese but I was way too full to have cheese as well. The Bara Brith on my blog is the more commonly made 'cake version'. This was the traditional speckled bread made from a lightly sweetened and spiced yeasted loaf with dried fruits and apparently it is his grandmother's recipe. Served toasted with butter, it was delicious, shame I couldn't fit in the cheese as well. I did manage one of these mango and passionfruit jellies at the end though! A perfect way to finish our meal.
We headed home before coffee as I was driving and rather fancied a glass of wine! One of my favourite wines is the New Zealand Cloudy Bay sauvignon blanc (They also do an excellent chardonnay.) and I knew Andrew had popped a bottle of it in the fridge before we left. Not only is it an excellent wine, it brings back many memories of when I used to run a restaurant in Australia in the 1980s. The first vintage I believe was in 1985, I started buying it for the restaurant in 1986 and I have been a fan ever since! It was a wonderful way to finish a most enjoyable evening.
NB I love to eat out in all sorts of establishments from street food to 3-star Michelin restaurants. I am not a food critic. I am merely sharing with you what I like and writing about what I find when I am there. The views are all my own and I receive no reward, financial or otherwise.

You May Also Like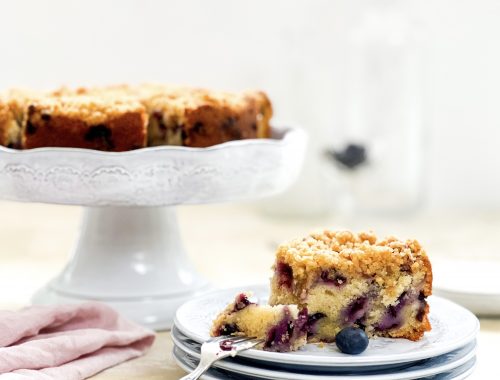 9th July 2023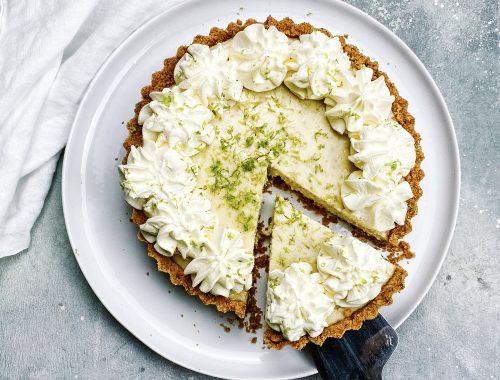 12th November 2020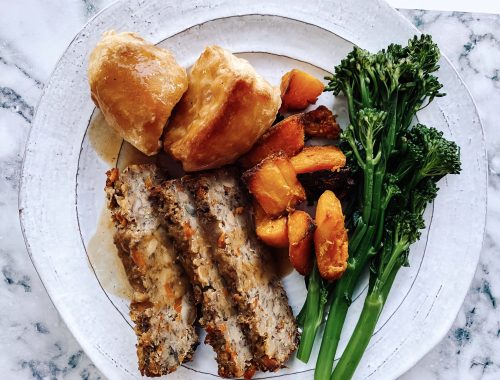 26th October 2020